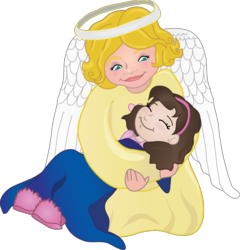 Sleep peacefully in the arms of an angel.
Summerdale, AL (PRWEB) April 26, 2012
The monsters that chase some children into the night are very real to the children – and to the parents trying to soothe the scared little ones. SweetDreams PJ has created nighttime system to help children and their parents deal with their nighttime woes.
Boston College's Dr. Peter Gray says that fear of being alone at night was passed down to us from our ancestors. In order for our ancestors to escape true threats during the night, they slept huddled together. A young child sleeping separately from the group could have encountered great danger.
Taking this theory and applying it to modern-day children who sleep alone, in a dark room filled with imaginary (yet, real to them) monsters, would suggest a need for a sleep aide. The parents need tools to help the children get the through the night, and the children need to be reassured that they are, indeed, safe.
Allen Wilson, the creator of SweetDreams PJ, has shared conversations with many parents who were tired and frustrated due to the "night nasties," a term Wilson uses to describe those unpleasant bedtime monsters and nightmares. It is Wilson's goal to "give the kids the power to deal with their monsters… banish their troubles rather than relying entirely on mom and dad."
The Night Charm, a heart-shaped charm that children can hold onto or wear on their Angel Hug pajamas, is equipped with magical chimes and sparkling lights to scare monsters away. For parents, it serves as a night light that makes the children feel safe. The complete nighttime remedy includes the Angel Hug pajamas, Night Charm, and a short DVD animation that parents and children watch shortly before bedtime.
The Angel Hug pajamas wrap an angel's arms around the child in a hug, which comes together at the front of the pajamas where there is also a Velcro attachment for the Night Charm. The angel's hug helps the children sleep peacefully, literally in the arms of an angel.
SweetDreams PJ and Laci Morgan Creations have put together a truly innovative product for the entire family. It doesn't just make the children feel safe, but it makes the parents happy that their children are resting soundly, no longer afraid.
Contact:
http://www.SweetDreamsPJ.com
CustomerService(at)sweetdreamspj(dot)com