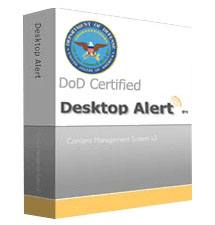 our company is currently in the review process for inclusion on the DISA Approved Product List (DISA APL) with the Army's enterprise-wide Certificate of Networthiness (CoN) and Authority to Operate (AtO)
Chatham, NJ (PRWEB) April 12, 2012
Desktop Alert Inc., the leading provider of IP-Based Mass Notification to the U.S. Army worldwide today announced that the U.S. Army at Ft. Huachuca has deployed the Desktop Alert Emergency Mass Notification System (EMNS) across the Fort Huachuca Post.
Fort Huachuca is a United States Army installation under the command of the United States Army Installation Management Command. Fort Huachuca is also the headquarters of Army Military Auxiliary Radio System (MARS). Major tenants are the NETCOM/9th Signal Command (A) and the United States Army Intelligence Center. Other tenant agencies include the Joint Interoperability Test Command (JITC), Information Systems Engineering Command (ISEC) and the Electronic Proving Ground.
The Desktop Alert EMNS provides bi-directional extensibility and integration with IP-based phones, landline and cell phones, computers, digital displays and kiosks, text messaging, pagers, public address system, common area alerting devices and secure social media end-points. The system also boasts the most complete solution for Cisco UC infrastructure available on the market today with over 700 Cisco UC customers using the award winning Cistera Convergence Server.
"Desktop Alert is proud to serve this iconic U.S Army installation. Fort Huachuca is well known for its high standards as well as its role in provisioning commercial vendors with crucial certifications required for operating software on U.S. Army networks. To that end our company is currently in the review process for inclusion on the DISA Approved Product List (DISA APL) with the Army's enterprise-wide Certificate of Networthiness (CoN) and Authority to Operate (AtO) ", said Howard Ryan, Chief Research and Development, Desktop Alert Inc.
"Our EMNS provides Army locations with Full Operational Capability (FOC) for mass notification systems (MNS) to meet the Ft. Hood Secretary of Defense (SECDEF) requirements in the Ft. Hood report which has a 2014 deadline for compliance. After a full and thorough review of all approved U.S. Army EMNS vendors, Desktop Alert was recently selected and purchased by Fort Hood as well. ", added Ryan.
U.S. Army locations seeking to implement an EMNS solution similar to Fort Huachuca and Fort Hood can contact Desktop Alert for a briefing and system demonstration.
Desktop Alert is now protecting Army personnel at nearly 75 installations and organizations with upwards of 1 million end-users. Desktop Alert is 'highly affordable' and rapidly becoming the U.S. Army preferred EMNS of choice with procurement's by:

National Guard Bureau (Air and Army nationwide)
Fort Hood
Fort Gordon
Fort Lee
Fort Bragg
Fort McAlester
Fort Campbell
Fort Knox
Fort Leavenworth
Fort Leonard Wood
Fort Rucker
Fort Polk
USAG Heidelberg
USAG Brussels
USAG Benelux
USAG Shinnen
United States Military Academy
About Desktop Alert Inc: http://www.desktopalert.net
Worldwide U.S. Military organizations such as The United States National Guard, The United States Air Force Academy, The United States Military Academy at West Point, Multi-National Forces in IRAQ, The U.S. Air Force, The U.S. Army now utilize the DTA mass notification platform daily for their organizations emergency communication requirements. Desktop Alert can contact thousands of users with desktop alerts and require receipt confirmation of the message. Those not verified can then be listed on a report and/or sent as a "Target Package" to be automatically contacted by other means such as email, SMS, phone calls and other devices.