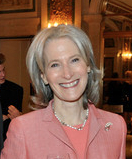 I am one of several women's imaging professionals in practice in Manhattan, so it is flattering to be invited to speak on the basis of my expertise in the field
New York, New York (PRWEB) April 13, 2012
Dr. Emily Sonnenblick of Rosetta will be presenting at North Shore Lenox Hill Hospital's Grand Rounds on Wednesday April 25, 2012 at 8:00 AM EST. The presentation entitled Breast Imaging for the Gynecologist will be delivered by Dr. Sonnenblick, to an audience of esteemed gynecologists, residents, nurses, nurse practitioners and other invited guests.
Approached for her expertise in mammography and breast imaging, Dr. Emily Sonnenblick was pleased to accept the invitation by the Obstetrics and Gynecology Department at Lenox Hill Hospital. The Medical Grand Rounds at Lenox Hill Hospital are known for providing valuable and innovative information on popular medical topics in the industry. Dr. Sonnenblick's presentation will discuss breast cancer screening recommendations, mammography, breast ultrasound, breast MRI, management of special challenges in breast imaging, new modalities and screening for breast and ovarian cancer in a high risk population.
When asked about this opportunity Dr. Sonnenblick said, "I am one of several women's imaging professionals in practice in Manhattan, so it is flattering to be invited to speak on the basis of my expertise in the field." Dr. Sonnenblick's experience as a clinical practitioner has led her to be a member of many honorable professional organizations in her industry and she was also recently honored by The American Cancer Society of New York at their annual Mothers of the Year Luncheon along side of Grace Hightower DeNiro and Dr. Diane Reidy Lagunes.
About Rosetta
Since its opening in the 1960s, Rosetta has served the city of New York with the highest quality Radiation Oncology, Diagnostic Radiology and Women's Imaging services. Rosetta was one of the city's first independently owned outpatient facilities and pioneered the definition of excellent care, technology and service. Now located at 1421 Third Avenue between 80th and 81st Street, Rosetta is fully accredited by The American College of Radiology and serves a vast patient population with the highest quality services for Mammography, Ultrasound, X-Ray, Breast Imaging and Biopsy, Breast MRI, Body MRI, CT Scanning, and Radiation Oncology. Known for their special combination of state-of-the-art technology and unparalleled patient experience, the facility is led by their onsite radiologists; Dr. Alfred Rosenbaum, Dr. Stanley Rosenfeld, Dr. Emily Sonnenblick, Dr. Ayala Rosenbaum and Dr. David Sherr.
###