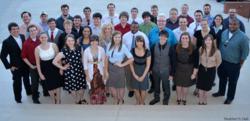 Lynchburg, VA (PRWEB) April 13, 2012
The Liberty University Debate Team has claimed its second championship of the 2011-12 Season, earning the top spot in the Cross Examination Debate Association (CEDA) final rankings. This marks Liberty's fourth consecutive CEDA sweepstakes championship and its sixth in the last seven years.
Prior to the CEDA championships, the team captured its ninth consecutive and 15th overall American Debate Association (ADA) Sweepstakes Championship. The 25th ADA National Championship was held March 10-12 at Clarion University.
Liberty competes nationally in policy debate's three national governing organizations: the Cross Examination Debate Association (CEDA), National Debate Tournament (NDT) and the American Debate Association (ADA). Liberty University has swept the sweepstakes rankings for the last three years and five times overall. Liberty remains the only school to win all three championships in a single season in the history of collegiate debate. Liberty Debate has earned 28 national rankings championships since 1995.
Liberty now awaits the release of the final National Debate Tournament rankings later this month. They competed in the tournament at Emory University March 28 – April 2.
The Liberty University Debate Team competes at the highest levels of intercollegiate policy debate and recruits debaters of all experience levels. For more information, visit online or contact Director of Debate Michael Hall, (434) 582-2080.
Liberty University, located in Lynchburg, Va., is the world's largest Christian university. More than 12,000 students attend classes on its 6,500-acre residential campus and more than 70,000 study in its thriving online education program.