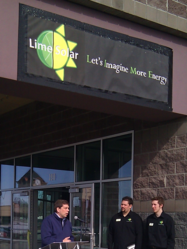 "It's inspiring to see this type of motivation and commitment from two Alaska-grown businessmen." - United States Senator Mark Begich
Anchorage, AK (PRWEB) April 16, 2012
Lime Solar, LLC opened its doors in a "Grand Opening" event today at its new store in Anchorage, Alaska.
"We are humbled by the presence of so many Alaskans today, particularly to have the support of U.S. Senator Mark Begich, and Renewable Energy Alaska Project (REAP) Executive Director Chris Rose, both of whom spoke on behalf of alternative energy businesses in Alaska," noted Chet Dyson, a partner in Lime Solar.
Lime Solar was formed in October 2011. The company's menu of services and inventory include solar, wind and LED lighting products for commercial and residential applications, design and engineering consultation for custom system, intermediary assistance for customers working with utility companies to ensure compliance with codes and requirements, and providing technical support on renewable systems.
"It's inspiring to see this type of motivation and commitment from two Alaska-grown businessmen," Sen. Mark Begich said. "I'm so pleased to see this investment in Anchorage's future, the commitment to renewable energy and helping Alaskans reduce their energy bills, and the growth of a local business that will bring jobs and economic support to this area."
"Our goals are to offer quality renewable energy designs, products, and services to residential, commercial, state and federal industries. Our mission at Lime Solar is to provide Alaskans financial freedom from cost prohibitive utility expenses while serving a greater global purpose through reduction of carbon emissions," added Jesse Moe, Dyson's business partner and an electrical engineer.