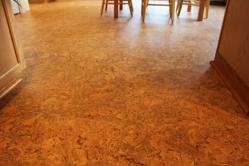 Atlanta, GA (PRWEB) April 17, 2012
Cork flooring products are viewed as an earth-friendly flooring choice primarily because no trees are harmed in the manufacturing process. Cork is harvested from the bark of cork oak trees across Southern Europe without harming the tree's health. Cork trees can be harvested every 9-12 years by simply peeling the bark from the trees, leaving the tree unharmed. It has been reported that some of the trees used to make cork flooring products are over 200 years old.
Recent advances in cork manufacturing now enable simpleFLOORS to offer a wide variety of colors and patterns, including eight different style choices of earth-friendly cork flooring. Cork offers the look of a hardwood floor with a much softer and warmer feel, and is often used in kitchen spaces because dishes and glasses have a much better chance of surviving a fall. People also like cork floors in the kitchen area because a knife dropped with the point down may stick into the floor but will not cause permanent damage, as cork is known to "self-heal." The resilient nature of cork also helps if there are small children around, as cork flooring is much softer for a falling child than a hard ceramic tile floor.
Cork is also good for use in places where people will be standing for long periods of time. A properly constructed cork floor is much gentler on the user's leg joints, making it a perfect flooring choice for work rooms, artist studios or child's playroom.
The cork floors that simpleFLOORS sells are designed to be installed using a floating, click-lock system, which means that glue does not need to be used for installing the flooring. No glue means fewer chemicals, which results in an even more environmentally-safe floor.
simpleFLOORS also uses sustainable cork underlay with most flooring installations, as it offers excellent durability and sound-dampening properties.
Earth-friendly cork hardwood floors by simpleFLOORS . . . ecologically sustainable hardwood flooring options for Earth Day 2012.