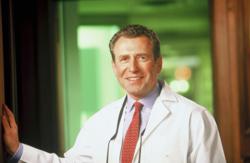 New York, NY (PRWEB) April 18, 2012
Dr. Jan Linhart has always emphasized patient comfort in his dental practice and is now taking that emphasis one step further. As described in the April 1, 2012 edition of IN New York magazine, Dr. Linhart has recently added a plush Continental Room to his Manhattan offices.
The Continental Room is a luxurious 750-square-foot suite that not only provides space for dental treatment, but includes a private living room. The living room features high-definition televisions, a private bathroom, and a pantry. In the IN New York article, Dr. Linhart describes the space as a "friendly, comfortable environment."
The Continental Room serves two primary purposes. The first is that it provides a relaxing, spacious environment for patients undergoing complex procedures that take a long time to complete. The second is that it provides space for friends, family members, bodyguards, and other individuals who may be accompanying patients. Dr. Linhart's practice includes many prominent patients, such as foreign dignitaries who may bring as many as five or six other people with them to the office.
As described in the IN New York piece, which appeared in the magazine's The Spa Spectrum, Dr. Linhart's new Continental Room is intended to "pamper clients." Patient comfort has always been a priority in Dr. Linhart's practice, which also has a strong emphasis on technology and continuing education. Therefore, the Continental Room is not only opulent, but it also includes advanced technology. For example, Dr. Linhart is able to administer anesthetic painlessly using a device called The Wand, and X-rays are taken digitally.
Additional details about Dr. Linhart's Continental Room can be found in the April edition of IN New York magazine, which is "distributed monthly in-room and at the concierge desks of leading hotels in the New York tri-state area, in every cabin on every trans Atlantic crossing of the Queen Mary 2, leading corporate housing locations, in-flight and in VIP lounges of domestic and international airlines and in Amtrak's First-Class Acela Lounge."
Dr. Jan Linhart, DDS, is a Manhattan based dentist who attracts patients from all over the world. Stop by our Park Avenue Manhattan office to inquire about our Manhattan teeth whitening, dental implant procedures as well as other procedures such as orthodontics, porcelain veneers and more.