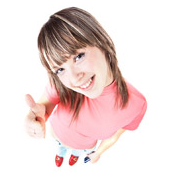 For younger teens, modelling should be considered as a hobby rather than a profession
London UK, and 18th April 2012. (PRWEB UK) 18 April 2012
Top tips to avoid teen tantrums - how to become a teen model, the La Mode way.
How to become a teen model is the question La Mode London get asked more than any other, and with top-notch advice from the model advice specialists today, La Mode say they have all the answers for a modelling future, tomorrow.
' Modelling for teenagers is a great way to earn some extra pocket money', says the director of La Mode, Helen Smith. 'For younger teens, modelling should be considered as a hobby rather than a profession. There is never a guarantee of any work, no matter how good looking you are and how good at posing you may become. Schoolwork has to come first and a teen model needs to realise this before they even begin to do the groundwork.' Helen goes on to explain,' teen models also need to realise that this is not something they can do by themselves, by law, a parent or chaperone is required to accompany a model, up to and including year 11 age group.'
Helen is keen to point out to all aspiring teen models the downsides to the glamorous life a teen model thinks they would lead if they make it in the teen modelling industry, but she is also very upbeat about the positive side of modelling for teenagers too.
'We offer honesty at all times here at La Mode. If we don't think a model is suitable or cut out for modelling, then we gently advise them against it. If, however, they do have the potential and the temperament to do well, then there are a few things they need to do to get started.'
La Mode London say one of the key pieces of information a teen model needs to know is how to get a professional looking portfolio, without breaking the bank.
'A modelling portfolio is like a toolbox for a model. Anybody starting out in a business needs the tools of the trade and for a model the same is true.'
Modelling portfolios should include various professionally taken shots of a model, in different poses wearing lots of different outfits. It should look varied to reflect the diversity of the model it portrays.
'Sometimes, only one photograph is needed for teenage modelling agencies to take a new model on their books, but even there after, a portfolio is essential to gain future work. Holiday snaps or unprofessionally taken pictures can end a models career before it has even started.'
Some photographers can only take a couple of individual looks, she explains, 'which means going to see two or three to get your portfolio looking anything like as full as it needs to be, to get you any work in the future. 'Helen continues,' here at our photographic studios in London, we have expert photographers, beauty and hair stylists on hand, to take lots of different poses. We can immediately transform a model into a totally different look with a different background to suit - all in one shoot. A model really gets a taste of living like a model for the day.'
She goes on to explain that sometimes, after a model experiences how life in the fast lane works, they decide against the high end type of modelling they wanted to enter into, and decide to opt for commercial modelling instead.
'It's all about the individual.' Say La Mode. 'And we try to bring out the best in each model.'
La mode offer ongoing modelling advice with their full portfolio and website service. Visit http://www.lamodelondon.com for more modelling information.