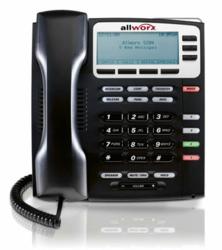 The Allworx 9224 VoIP telephone is well-designed, robust and stylish. It is ideal for receptionists and power users who handle a high volume of calls daily
Bay Shore, NY (PRWEB) April 16, 2012
TelcoDepot.com now provides a new reduced price for market leading Allworx 9224 VoIP phone systems for businesses.TelcoDepot.com is a provider of business phone system equipment and services covering VoIP phones, VoIP service, hosted PBX service, PBX phone system equipment, telephone system accessories and more, including VoIP phone system support. Shop for leading phone system equipment from brands like Aastra, Allworx, Grandstream, NEC phone system products, TalkSwitch, Xblue and Yealink at affordable prices with great support options.
The Allworx 9224 is a high-powered business VoIP phone system which supports between 24 to 96 programmable function keys (PFKs), line appearances, busy lamp fields, speed dials, backlit display and additional Tx Expander units. The Allworx 9224 is intuitive and does not require retraining and is an optimal upgrade choice for migration from traditional key systems.
The key features of the Allworx 9224 include High-Fidelity Voice Handset, RJ-11 headset port, Power over Ethernet (PoE), Navigation keys, Visual Ring Indicator, easy to read 192×64 backlit graphical display, 12 programmable function keys, 4 Soft Keys, dedicated park and hold feature keys, 2 10/100 Ethernet switch ports, hearing aid compatible, speakerphone, supports up to 12 line appearances, reversible handset hook, adjustable stand/wall mountable and a dedicated presence button, among others.
"The Allworx 9224 VoIP telephone is well-designed, robust and stylish. It is ideal for receptionists and power users who handle a high volume of calls daily," says Yaron Ram, a TelcoDepot.com principal.
To learn more about the TelcoDepot.com Allworx 9224 IP Telephones Reduced Price Offer, including available discounts, support options, and new pricing, visit telcodepot.com/products/allworx-9224-ip-telephone-8110055/189. For additional inquiries, call TelcoDepot.com support lines on 1-800-390-1200 or send an email to info(at)telcodepot(dot)com.
About Telco Depot
Telco Depot is a leading supplier of quality business telephone systems, business VoIP service, VoIP phones, phone headset equipment, video surveillance systems, voice & data cabling solutions, conference phone solutions and Microsoft Response Point Systems. The company's top priority is to help its clients make informed decisions based on their specific small business phone system needs by providing experience and expertise and guiding them in selecting the best phone systems for their businesses. Telco Depot ensures that their phone systems are fully scalable, affordable priced, and provide the highest value for their clients