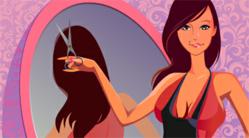 Shannon Whiteside, editor of The Color Stylist, said 'Even with such a wet and rainy weekend the attendees
of last weekends Coachella didn't disappoint with a glimpse of this summers trending styles.'
Indio, CA (PRWEB) April 16, 2012
The summer music festival season started off this past weekend with Coachella.
The Color stylist, a Westlake Village Hairstylist, predicts this summer's hairstyles based on Coachella's attendees.
The Coachella Valley Music and Arts Festival is an annual three day music festival that takes place in Indio, California. This is the first year the Goldenvoice, the organizers of Coachella, will be holding the festival over two separate weekends.
The Color Stylist chose the hairstyles of Grace Potter, Jonny Greenwood, Azealia Banks, and Feist as their predictions for this summers most popular hair styles.
Grace Potter is the lead vocalist in the band "Grace Potter and the Nocturnals". Potter wrote a track titled "Something That I Want". In 2010, Potter re-wrote and sung the lyrics of "Something That I Want" for Disney. The revised song was featured during the closing credits of their animated film "Tangled".
Jonny Greenwood is the lead guitarist and main keyboard player in the band called Radiohead.
Azealia Banks is a rapper and singer from Harlem. She was formerly known by the moniker Miss Bank$.
Feist is a Canadian singer-songwriter. She is a member of an indie rock group, Broken Social Scene. She won five Juno Awards in 2008, including Songwriter of the Year.
Shannon Whiteside, editor of The Color Stylist said, "Even with such a wet and rainy weekend the attendees of last weekend's Coachella didn't disappoint with a glimpse of this summer's trending styles."
The Color Stylist is an online magazine written by hair color expert Shannon Whiteside devoted to current trends in hair coloring and styles, beauty, and advanced hair coloring techniques for hair and beauty professionals.