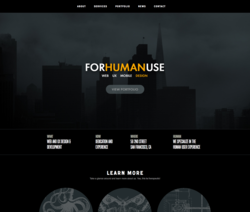 The client's design experience reaches new heights with Mark Kohr joining our firm
San Francisco, CA (PRWEB) April 24, 2012
FOR HUMAN USE Design Firm has added Mark Kohr to its already impressive team of talent. As a successful music video writer/director/producer, Kohr brings with him an array of vital skills to this San Francisco design firm. Kohr has directed and produced commercials and music videos, with past clients including Green Day, No Doubt, Shakira, Tori Amos, among others. His work with Green Day even resulted in an MTV Video Music Award and several Billboard Music Video Awards. He is known for creating rich visual design and engaging emotions specific to the needs of each project.
In joining FOR HUMAN USE, Kohr will become the firm's Media Director. He will use his skills to oversee the planning and production of websites and applications that demand a media-rich focus. Creative Director and CEO Jason East believes that the addition of Kohr to FOR HUMAN USE is a perfect fit. "His approach fits perfectly with our core philosophy, Strategy + Emotion = Superior Design. Our clients require, and deserve, the best. We are now proud to offer them Mark's experience."
The addition of Kohr enables this San Francisco UX design firm to provide its clients with infectious video experiences and nuanced production capabilities that few design firms offer. "The client's design experience reaches new heights with Mark Kohr joining our firm," states Marc Haggard, FOR HUMAN USE's Lead UX Designer. With the talented designers, programmers, and, now, media producer that FOR HUMAN USE has to offer, the concept of a design firm will never be the same.