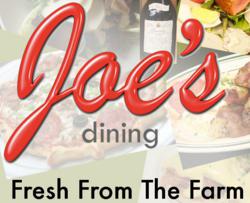 Santa Fe, New Mexico (PRWEB) April 17, 2012
Joe's Dining, a SantaFe.com and Hutton Broadcasting Featured Business, and one of Santa Fe's premiere local restaurants for farm fresh New Mexico foods, is proud to announce the return of the Meet Your Farmer lunch experience. Starting sometime after 1:30 p.m. Saturday April 21, and every Saturday thereafter through to the end of the growing season, you can have lunch with a local farmer. This is a unique opportunity to ask questions about farming, enjoy a local meal, and meet the farmers who grow New Mexico foods. Owner/Chef Roland Richter, seen every Saturday at the Farmers Market, invites vendors from the Market to relax over an after Market lunch every Saturday at the company's restaurant location (at 50% off everything), to meet the community that supports their hard work.
In 2011, Joe's Dining proudly spent over $80,000 on locally-grown New Mexico farm products, including meat, poultry, eggs, organic flour, dairy products, fresh produce and locally-made value-added products like jams and blue-corn pancake mix.
As the "eat local" and "know your farmer, know your food" movements grow around the state, Joe's Dining is proud to be a leader in purchasing local New Mexico foods for their menu. This year Joe's plans to spend well over $90,000 in local products while adding more products all the time as they become available in sufficient quantities. Recently they added locally roasted organic fair trade coffee and milk to their buying. Joe's Dining has been a participant in the Farm to Restaurant and in 2008 was awarded The Farm to Restaurant Dedication Award for their commitment by the project.
About Joe's Dining:
Since 2002, Joe's Dining has made the commitment, to its loyal customers to provide the highest quality menu featuring local New Mexico products. "This has been built into our business plan since we opened our first restaurant in1995 (Pizza Etc)" said owner/chef Roland Richter. "We believe that by buying New Mexico food we also improve our health, protect our soils and repair our economy. Besides enjoying the superior taste of locally grown foods, it has a far-reaching impact on the political and economic climate. Everyone can make a difference each day when they eat local foods by voting with each dollar they spend."
Joe's Dining Contacts:
Roland Richter and Sheila Nixon
sheila(at)joesdining(dot)com
About SantaFe.com
SantaFe.com provides locals and visitors to Santa Fe alike the most current interactive platform for events, music, arts, business, dining and lifestyle. SantaFe.com is a division of Hutton Broadcasting, located at 2502 C. Camino Entrada, Santa Fe, NM 87507
Contact Information:
Scott Hutton
SantaFe.com / Hutton Broadcasting
http://www.santafe.com
(505) 471-1067 (Media inquiries only, please)