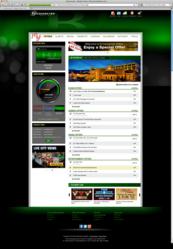 "Gigya's Social Gamification Platform was a natural choice for us," said Brian Best, Vice President of E-Commerce for Boyd Gaming.
Mountain View, CA (PRWEB) April 17, 2012
Gigya, the leading provider of social infrastructure for business, today announced the integration of its Social Gamification Platform with Boyd Gaming Corporation of Las Vegas – one of the nation's largest casino companies -- for "B Connected Social", Boyd's new gamified online casino loyalty platform.
B Connected Social is the centerpiece of the next generation of "B Connected Online," the web-based home of Boyd Gaming's nationwide casino loyalty program that links 13 Boyd Gaming casino properties in five states. By leveraging Gigya's end-to-end social infrastructure, B Connected Social encourages users to earn rewards for behaviors such as booking hotel rooms or sharing offers, events and promotions on their social networks. As users accrue "Social Points" and badges, they not only gain social standing within the B Connected online community, but can "cash in" rewards for entries into regular giveaways and other contests.
The B Connected Social implementation with Gigya is the first time a nationwide casino rewards program has been integrated with gamfication. The site serves as an innovative example of how businesses can use gamification to tie physical and virtual rewards together to create behavior feedback loops – where rewards drive engagement, and engagement drives rewards. Based on Boyd Gaming's legacy rewards program, B Connected Social also leverages Gigya's Share plugin which seamlessly integrates with Gigya's Social Gamification Platform, enabling B Connected Social users to accumulate rewards for sharing their achievements to their social networks.
"B Connected Social is a truly unique application of gamification," said Patrick Salyer, CEO of Gigya. "By weaving virtual and physical rewards together, Boyd Gaming is able to keep users engaged with its loyalty program and encourage behaviors that benefit the business."
"Gigya's Social Gamification Platform was a natural choice for us," said Brian Best, Vice President of E-Commerce for Boyd Gaming. "Over the last several years, we have built B Connected Online into the leading website of its kind in the casino entertainment industry. Gigya's social infrastructure will help us take B Connected Online to the next level, and solidify our position as the leading online brand in our industry."
B Connected Social includes both plugin and customized elements of Gigya's Social Gamification Platform, including My Alerts", a feature that immediately alerts customers of key rewards opportunities like new offers received, ticket sales and new gaming slots.
The B Connected Social site is now live and can be found at: http://www.bconnectedonline.com.
About Gigya
Gigya's mission is to socialize the rest of the web. We provide websites with a complete social infrastructure that creates immersive social experiences for users and provides unparalleled customer insights for businesses.
Gigya equips businesses like ABC, Pepsi and Verizon with a comprehensive solution to socialize their online properties. Our technology enables seamless registration with Social Login, increases traffic and time spent on-site via Social Plugins and Social Gamification and transforms marketing by leveraging permission-based social identity data.
Gigya works with more than 500 enterprises and touches more than one billion users per month. Our platform extracts the real value from social networks, empowering online businesses to attract, engage and understand users like never before.