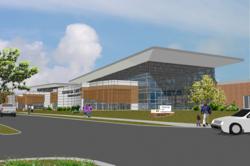 Parma, OH (PRWEB) April 18, 2012
Cuyahoga County Public Library (CCPL) invites the public to celebrate the opening of the new 25,000-square-foot, state-of-the-art Warrensville Heights Branch – located at 4415 Northfield Road between Clarkwood Parkway and Emery Road – at a ribbon cutting event on Saturday, April 21st at 2:00 p.m. The event will be preceded by a "book parade" led by local students at 1:30 p.m., and will include refreshments and performances by the Ecumenical Disciples Choir. Scheduled to speak at the ribbon cutting are Warrensville Heights Mayor Brad Sellers, Congresswoman Marcia Fudge and Cuyahoga County Public Library Board of Trustees President Robert W. Varley.
The Warrensville Heights Branch will be co-located with the City of Warrensville Heights' new YMCA building, which is currently under construction, as part of the city's plan to create a community center. The branch, designed by Holzheimer Bolek + Meehan Architects, features an eco-friendly design and a dynamic, curving glass façade facing Northfield Road that will give passersby a glimpse into its attractive community spaces. The interior space will feature an interactive "Play, Learn and Grow" station for children, made possible through a $100,000 grant from the Reinberger Foundation. Other features include:
· Mural artwork from the classic children's book Let it Shine by author Ashley Bryan, used with permission
· Afterschool Homework Center where students will receive free homework help and engage in learning activities
· Café
· Business copy center
· Quiet study areas
· 50 public access computers
· Technology classroom where Library customers will receive computer instruction
· Recording studio
The existing Warrensville Branch, located at 22035 Clarkwood Parkway, will be closed next week, beginning Monday, April 16th, as Library staff prepare for the move to the new location.
The construction of the new Warrensville Heights Branch is the first phase of the largest building improvement program in the history of Cuyahoga County Public Library. The program, dubbed the Facilities Master Plan (FMP), consists of priority construction, relocation and renovation projects. It is part of a long-term financial plan adopted by the Library Board that will save more than $4 million annually. The Library is not asking for additional funding from taxpayers to pay for these projects.
For more information on the Library's Facilities Master Plan, please visit http://www.cuyahogalibrary.org/facilitiesplan.aspx.
About Cuyahoga County Public Library
Cuyahoga County Public Library consistently ranks as one of the nation's ten busiest and best library systems. Its 28 branches serve 47 communities. The Library's mission is to be at the center of community life by providing an environment where reading, lifelong learning and civic engagement thrive.