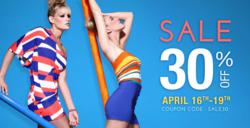 Hollywood,CA (PRWEB) April 18, 2012
With Yang Yang at the helm, AMIClubwear is seeing a lot of firsts for the 2nd quarter of 2012. Fresh from launching the 1st ever online magazine as an online retailer, it seems that Yang Yang is once again testing new waters, because AMIClubwear is seeking to make its presence felt across channels. This time around Yang Yang seeks to reach potential customers through television; and her first foray results in a commercial shoot that reflects the vibrant and youthful image of AMIClubwear as it announces that shoppers can enjoy 30 percent off AMIClubwear products using code: TV30!
The premise of this commercial shoot is an attractive one for young, fashion savvy females on the look-out for the best fashion deals. Four beautiful young ladies are enjoying a sunny day by the pool when they are suddenly elated to learn of a piece of news. They rush to a room where fashion loot is strewn on a plush bed. They immediately set out to spruce themselves up for a night on the town. When they walk through posh doors dressed in AMIClubwear garb, they are fierce. The commercial ends with toasts of bubbly, and a delicate foot in glass heels stepping out of a stretch limo.
What's clear from this commercial is: young ladies can enjoy painting the town red in AMIClubwear garb that is stylish as well as affordable. And Yang Yang says, "This is what AMIClubwear is all about: not limiting yourself to the imagined constraints of your finances. There is always an innovative way to dress fashionably. And AMIClubwear is all about fashion innovation."
To keep the AMIClubwear presence on TV more aligned with its formidable online presence, Yang Yang chooses to work with her most popular and visible models. Judging from the sheer number of comments Kassandra, Megan, Alexia, and Ashleigh garner on their YouTube videos, it is clear that the AMI Supermodels are stars in their own right who are beginning to command a following of avid fans. Yang Yang is quick to foster this following by featuring her star models on the commercial.
Her keen business sense tells her that the differences in personality among the 4 ladies, is sure to attract different types of shoppers. Bubbly types will certainly identify with the gregarious Kassandra. Subtly shy types with a quiet intensity will identify with the sensitive Megan. Feisty types will surely see themselves in the spirited Alexia. And all-American-girls will connect to the beautiful girl-next-door, Ashleigh.
Yang Yang goes on to add, "It is my goal to bring AMIClubwear to a wider audience. Exposure via the TV commercial will give AMIClubwear leverage over other online retailers. If shoppers and potential customers see that we are constantly looking to market our products with dynamism, using creative avenues, they will see that AMIClubwear is a company that shows passion towards its vision as well as its products. And in the years I've been at the helm of AMIClubwear, one thing's for certain – passion sells."