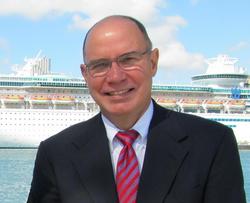 Modern cruise ships are becoming larger and larger, with more passengers than most small towns. But there are fewer and fewer true professional mariners aboard now. The majority of the crew members serve food and alcohol.
Miami, FL (PRWEB) April 18, 2012
Tonight a documentary will air on PBS / Nova at 9:00 PM entitled "Why Ships Sink." The special program will focus on calamities at sea, starting with the sinking of the Titanic in 1912 and ending with the Costa Concordia disaster this year.
Miami maritime lawyer Jim Walker is interviewed throughout the one hour documentary. He discusses issues of maritime safety and the current state of affairs in the cruise ship industry.
According to NOVA: "The twenty million passengers embark on cruises each year, vacationing in deluxe "floating cities" that offer everything from swimming pools to shopping malls to ice skating rinks. And the ships just keep getting bigger: The average cruise ship has doubled in size in just the last ten years. Some engineers fear that these towering behemoths are dangerously unstable, and the recent tragedy of the Costa Concordia has raised new questions about their safety. Now, NOVA brings together marine engineering and safety experts to reconstruct the events that led up to famous cruise disasters, including the ill-fated Concordia, the Sea Diamond, and the Oceanos."
Jim Walker is a maritime lawyer in Miami, Florida with 29 years experience. His firm represents cruise passengers and crew members in cases against cruise lines.
Mr. Walker has participated in several programs this year about cruise ship disasters, including the ABC 20/20 special on the Costa Concordia and the Australian Dateline special on cruise ship disappearances of passengers and crew members.