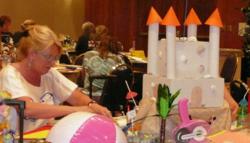 "Attendees line up early to get their seats at the crop, especially those with several friends they want to sit with. There's lots of chatting and creating happening." – Brooke Mathewson, Events Manager
Manchester, NH (PRWEB) April 24, 2012
Scrapbookers from around the region are coming to Manchester to attend the Creating Keepsakes Scrapbook Convention (CKC) April 27-28, 2012 at the Center of New Hampshire. At the Friday Night Celebration Crop attendees can participate in the Beach Party contest by decorating their table, wearing beach party attire, and displaying other creative items. Prizes awarded for the table with the best decorations and to individuals with the best decorations. SEI, a Platinum 1 affiliate, is providing the prizes valued at $120 for the table and $20 for individuals.
Crops are the perfect time to complete projects from classes, catch up with friends, and win prizes. Attendees receive a goody bag with scrapbooking products and are entered in drawings held throughout the evening. In addition, several exhibitors provide crop sales tables where attendees can shop for scrapbooking product.
Tickets are needed to attend the crop and can be purchased online through midnight ET on Thursday, April 19 or at the convention starting the afternoon of Thursday, April 26.
For more detailed information, please visit http://www.CKScrapbookEvents.com/manchester.
Creative Crafts Group
Creative Crafts Group consists of a diverse mix of traditional magazine publishing, online, and digital media, multiple consumer and trade events, merchandising as well as domestic and international product licensing. Creative Crafts Group's foundation is built on nine leading consumer magazine titles with a combined circulation of 1.2 million. Creative Crafts Group consumer magazines are household names and market leaders providing content and community resources for scrapbooking, paper crafting, quilting, and sewing. The publications are Creating Keepsakes, Paper Crafts, Quilter's Newsletter, McCall's Quilting, Quiltmaker, McCall's Quick Quilts, Quilter's Home, Sew News and Creative Machine Embroidery. Creative Crafts Group is a division of New Track Media. For more information, please visit http://www.newtrackmedia.com.