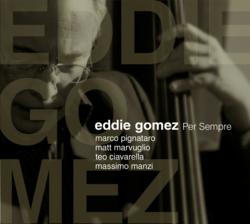 "Eddie Gomez has the world on his strings."
– TIME Magazine
Los Angeles, CA (PRWEB) April 19, 2012
Acoustic bass giant Eddie Gomez ensures his place as one of the truly great musicians working today with his newest recording – "Per Sempre," to be released by BFM Jazz on May 1, 2012.
Recorded in Bologna, Italy while on tour in winter 2009, "Per Sempre" is a luminous jazz disc destined to stand the test of time, showcasing an amazing ensemble. Gomez brings originals—by himself and members of his quintet—to the table, along with one evergreen, "Stella by Starlight." One of "Per Sempre's" haunting melodies, "Arianna," is a stunning ballad "exemplified by the gorgeous, plucked Gomez solo at its center" — Jazz Times.
Coming off his recent triumph "Further Explorations" (with Chick Corea and the late Paul Motian) in which Gomez celebrated the 50th anniversary of legendary pianist Bill Evans' classic album "Explorations," "Per Sempre" furthers Gomez' stature as consummate bassist, inspirational leader, composer and cultivator of musicianship.
Eddie Gomez's career kicked into gear in the early 1960s and there are more than twenty albums under his rubric. "Per Sempre" features a host of talent and original composition. Gomez's conception is like his career, spanning the mainstream (Miles Davis, Gerry Mulligan, Dizzy Gillespie, Bill Evans, Benny Goodman, McCoy Tyner, Hank Jones, Freddie Hubbard) to fusion (Steps Ahead, The Gadd Gang) to classical (Tashi, The Kronos Quartet, Richard Stoltzman). His recent recording Duets, co-led with Carlos Franzetti on piano, won Best Instrumental Album at the 2010 GRAMMY® Awards.
"Per Sempre" is rich with breezes wafting from the Mediterranean and the Caribbean; exquisite chamber jazz – soulful and swinging. Gomez's bass is, as usual, resolute as a heartbeat and delicate as a raindrop.
The Quintet Members are: Marco Pignataro, saxophone Matt Marvuglio, flute Teo Ciavarella, piano Massimo Manzi, drums.
About Eddie Gomez: GRAMMY®-winning, legendary bassist EDDIE GOMEZ has been on the cutting edge of music for over four decades. His impressive resumé includes performances with jazz giants such as Miles Davis, Dizzy Gillespie, Gerry Mulligan and Benny Goodman. Eddie's distinctive sound and style can be heard on hundreds of recordings spanning the worlds of jazz, classical, Latin jazz, rhythm & blues, popular and contemporary music. At age 21, Eddie became the bassist with the Bill Evans Trio – and rose quickly to prominence. For 11 years, he played an integral role in the Trio's sound and evolution, and played on many recordings including two GRAMMY®-winning albums.
A sought-after educator, Eddie is Artistic Director of the Jazz Program at the Conservatory of Music of Puerto Rico, and is frequently artist in residence at schools across the U.S. and throughout Europe. As a composer, many of Eddie's compositions are featured on his recordings as well as on those of his contemporaries. Today, Eddie tours and records with his own group, and performs around the world in collaboration with some of the great musicians of our time. His recent recording "Duets," co-led with Carlos Franzetti on piano, won Best Instrumental Album at the 2010 GRAMMY® Awards. His latest recording "Per Sempre" will be released by BFM Jazz on May 1, 2012.
For More Information on Eddie Gomez Including Bio, Tour Dates, & Press Kit go to: http://www.eddiegomez.com
For more information on BFM Jazz, visit: http://www.bfmjazz.com