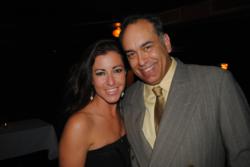 Ther Alan Action Sugar Daddy Partiy is a very elegant, classy and refined event that is passion all night long. NY Post Augsut 2011
New York, NY (PRWEB) April 19, 2012
On April 23, 2012, at 7 p.m. Internationally Recognized Party Planner. Alan "Action" Schneider and 3 million member Sugar Daddy Dating Website, Sugardaddyforme.com the largest Sugar Daddy Dating Website in the world, have teamed up for a very unique event, that pairs up vendor companies, Beautiful and Empowered Women 21-39, with successful and established men, 30 and over, for an evening of Networking, Dancing, Romancing, and relationship building.
The latest party is slated for Monday April 23, 2012, at 7 p.m. at the Hudson Terrace, a dual roof top venue located at 621 West 46th Street. The event is coined, "The Spring Fling Be Your Own Boss Event." Tickets for ladies are $50.00 and tickets for men are $100.00, at SugarDaddyEvent.com.
These parties, the brain child of Alan"Action" Schneider began over two years ago, and have gained momentum, popularity, and attendance exponentially, with each successive party. So far, Alan Action has had 18 of these events at such venues as Merchants, New York, the New Copacabana, and The Hudson Terrace, and the latest parties have had over 700 people in attendance, with the ratio of women to men at 2 to 1.
The main reasons for the parties' increase in popularity according to Alan Action, is that the uniqueness of the Event, combining Vendor booths in the beginning of the party, club and live music in the heart of the party, and attendees that generally want to meet each other in a romantic and fun context for substantial mutually beneficial relationships, really doesn't happen anywhere in New York.
Most networking events, according to Alan Action, are somewhat boring, and lack a sexy element to keep attendees interested. The "Sugar Daddy Event Series" boasts about really having something for everyone. This latest event features 12 Vendor booths with everything from Beauty Care vendors, A Cigar Company, two Banks, a new line of lingerie, photographers and production companies, limo companies, marketing printing and design companies, multi-leveled marketing companies, Plastic Surgeons, and even two liquor company sponsors.
Music is provided by two live DJ's on a dual level rooftop, and gourmet food and deserts are supplied throughout the evening. Wherever, the attendees turn, there is something always to do, and the event is both uniquely exciting and informative and fun. Business relationships are secured, networking is achieved, and romantic relationships are developed. It's a positive Networking Event that gives men of means a chance of meeting, greeting, and networking with attractive and empowered women that want to be pampered, enriched, and revered, in almost a throwback to traditional values. Party organizer Alan Action has indicated that sales of the tickets for the upcoming event, on April 23, 2012, have been selling briskly and that interested attendees should log on to sugardaddyevent.com to get their tickets.