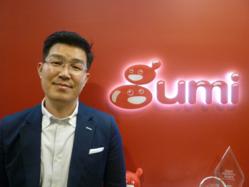 Tokyo, Japan (PRWEB) April 19, 2012
gumi Inc, a leading Tokyo-based mobile social game developer, today announced the opening of a new office in South Korea. With the international smartphone market expanding quickly and game platforms going global, gumi plans to achieve rapid international growth starting in South Korea. Recent growth of the mobile social game market in South Korea and gumi's decision to enter this market follows the November 2011 lifting of a regulatory ban on games in the Apple App Store and Google Android Market in South Korea. gumi Korea Inc is gumi's first overseas office, and will be lead by Gibon "Peter" Chang, who brings over 10 years of experience in online entertainment and mobile social gaming to the company.
"We've experienced success in Japan, and are now moving aggressively into the global market," says gumi founder and CEO Hironao Kunimitsu. "We will work closely with gumi Korea to develop new, innovative, and exciting social games for South Korea and other countries."
"The smartphone gaming market in South Korea is entering a rapid growth phase with 60% growth forecasted this year," says gumi Korea CEO Gibon Chang. "At gumi Korea, we will focus on creating fun new mobile games for this market, with the same high quality standards as those produce by gumi in Tokyo."
About gumi Korea Inc.
gumi Korea Inc. was founded on April 10, 2012 in Seoul, South Korea and is a fully owned subsidiary of gumi. gumi Korea will develop new mobile social games for release in South Korea and internationally.
About gumi Inc.
gumi Inc. aims to change the world through innovations in entertainment and technology, and become the top provider of mobile social games in the world. gumi is a top game developer on mobile social gaming network GREE, where it has released original titles such as Yakuza Wars, Pirate Wars, Knight Wars, Duel Summoner, and Duel in Wonderland. gumi also partnered with Capcom to develop Monhan (Monster Hunter) Tankei Maboroshi no Shima. For more information, please visit http://gu3.co.jp/en/