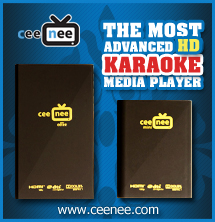 We are proud to become one of the sponsors of the Karaoke World Championship USA in the year 2012
Cincinnati, OH (PRWEB) April 20, 2012
Karaoke World Championships USA (KWCUSA) is very proud and excited to announce new sponsor Cee NEE for 2012. As part of their sponsorships CeeNee has already provided prizes for the 2012 regional competitions. Wendell Payne, President of KWCUSA says, "We are excited to have CeeNee on board and anticipate their presence at each of the regional competitions, along with some local and state competitions." KWCUSA will also have CeeNee available to purchase on their website.
Kiwi Dang, sales and marketing manager for CeeNee says, "CeeNee, Inc. is a consumer electronics manufacturer in home entertainment media player. We provide consumers a complete innovative experience over how they experience HD movies, digital photos, music and karaoke. CeeNee launched the first consumer product called 'CeeNee mini' in 2010 and 'CeeNee eeTee' in 2011. The CeeNee mini Karaoke/Network Media player can play stream media contents over the Local Area Network (LAN) or online sources. When connecting to an external hard drive (up to 4TB), our CeeNee mini Karaoke/Network Media player can play approximately 12,000 Karaoke songs and HD movies. The newer CeeNee eeTee with a built-in 1TB 2.5" internal hard drive has more streaming power and supports Wi-Fi, 3G or 4G. Furthermore, our players can currently play different Karaoke formats such as AVI, MKV, M2TS, VOB, MP3-XML and MP3- CD+G. All of our products support the output resolutions up to Full HD 1080p.
"We are proud to become one of the sponsors of the Karaoke World Championship USA in the year 2012. Being one of the karaoke and HD digital media player manufactures, we would like to instigate the passion for singing karaoke, reach all karaoke singers worldwide, set a milestone in creating a healthy entertainment environment, develop interpersonal relationships and relieve daily stress. Finally, we wish all the best would come to the karaoke contest and contestants. We also hope that through the contest, winners can advance further into the professional singing world, and with the winners' helps and promotions, people will get to know our products and other sponsors' products as well."
About CeeNee, Inc
Kiwi Dang
Sales & Marketing Manager - CeeNee, Inc.
683 River Oaks Parkway
San Jose, CA 95134 U.S.A.
(O): 1-408-890-5018
(M): 1-361-425-5584 (F): 1-408-884-2418
http://www.ceenee.com/
About Karaoke World Championships USA (KWCUSA)
KWCUSA was the home of Karaoke Battle USA as seen on ABC last August and September.
KWCUSA mission is to organize, facilitate, and manage a viable, impartial competition for the entire United States.
KWCUSA goal is to include as many possible singers from all states and territories of the U.S.A. and provide this opportunity to all amateur performers to represent our country at the Karaoke World Championships.
KWCUSA objective is to identify, prepare, promote true U.S.A. karaoke champions utilizing all of our organizations resources efficiently and effectively observing all guidelines established by the Karaoke World Championship Organization and to provide the due diligence required to facilitate our mission in its entirety.
KWCUSA is the only organization in the United States affiliated with the Karaoke World Championship organization. KWCUSA champions exclusively represent the United States in the only international karaoke competition.
The Karaoke World Championships (KWC) is the largest and most prestigious international karaoke competition in the world. This multicultural international music event without boundaries permeates the spirit of music, entertainment and fun.