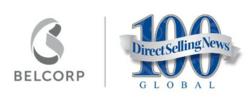 San Francisco, CA (PRWEB) April 20, 2012
Peruvian-based, International beauty company Belcorp has been recognized as the 10th largest direct selling company in the world. The Global 100 is a comprehensive ranking system created by Direct Selling News to recognize the achievements of the most successful direct selling companies around the world. Belcorp moved up from an 11th place ranking in 2010 to secure the 10th spot in the top 10.
Belcorp's top 10 ranking can be attributed to its major global expansion strategy, the successful launch of a new market in Brazil, and a continued commitment to development and excellence. After 45 years in the direct selling industry, the company has a prominent presence in 16 countries, has 8,695 employees and over 938,000 active independent distributors fueling the company's impressive growth.
This recognition joins a series of important events for Belcorp over the past month. In March, Belcorp was ranked #12 on the Top 25 Best Multinationals to Work at in Latin America by the renowned Best Place to Work organization. A week later, Belcorp received financing from the IFC in the amount totaling $130 million that will accelerate expansion plans. CEO and Founder, Eduardo Belmont explains "The events of this past month give us clear evidence that we are advancing towards our dream. This success is due to the hard work of dedicated team members around the world and, of course, the over 900,000 independent distributors."
Belcorp commends Direct Selling News for compiling this important list as it serves to increase awareness about this powerful industry and sheds light on the profound impact that direct selling companies make on the world. In these difficult economic times, Belcorp is gratified to be able to generate opportunities for growth for its employees, beauty consultants and suppliers.
"We are truly honored and excited to be #10 on Direct Selling News's Global 100 list and believe this recognition is a result of our consistent search for new challenges that support or expansion strategy, "said Mona Ameli, General Manager of Belcorp USA. "We look forward to continued growth as we drive our global vision through the keen development of our strategies, a focus on innovation, the establishment of new markets and consistent nurturing of the structures in our existing market that allow our beauty advisors around the world to realize their goals."
About Belcorp USA
Belcorp International, Ltd. is a private, multi-brand, international corporation with over 45 years of experience in developing and selling products in skin care, fragrance, makeup, body care and hair care through a network of 938,000 Independent Distributors across the Americas. It is the 10th largest direct selling company in the world conducting business in 16 countries. Established in 2005, Belcorp USA is a wholly-owned subsidiary that sells beauty products in the United States under the L'Bel brand, which are available both online and through a large network of Independent Beauty Advisors nationwide. L'Bel Skin Care line and Fragrances are produced exclusively in France. Products can be purchased online at http://www.lbelusa.com.