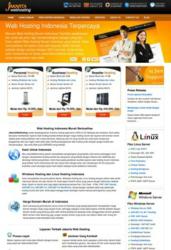 JakartaWebHosting Provides SQL Server 2012 Hosting Backed With 24/7 Live Support.
Jakarta, Indonesia (PRWEB) April 21, 2012
Jakarta Web Hosting, the premium provider of Windows hosting and Linux hosting services in Indonesia, today announced the newest version of Microsoft SQL Server by launching the MSSQL Server 2012 in its hosting packages.
Recently launched, the MSSQL Server 2012 has received a lot of positive comments which is saying that it is the most extensive data platforms in technology today. As a leading Windows and Linux hosting provider, Jakarta Web Hosting today announced the brand new SQL Server 2012 availability.
This broad database management software comes with three editions: Standard, Business Intelligence and Enterprise Edition. The Standard edition is the simplest edition that useful for most basic analytical tasks, meanwhile the Business Intelligence edition is added with some business intelligence functionality. The Enterprise edition as the most vigorous edition provides all the features in those two editions plus some great features for wide-ranging application.
Jakarta Web Hosting MSSQL Server 2012 hosting covers all features that important to manage and protect company's critical data. Such as Power View, one of useful features on SQL Server 2012 that the substitute for the Report Builder. It enables more analysis and visualization of data. It offers hosting packages with the MSSQL Server 2012, including Windows Personal hosting, Windows Business hosting and Windows Reseller hosting. Each of its clients will have the benefit of a software and hardware partner environment which provides solutions for every management requirements. The MSSQL Server 2012 is the perfect answer for large-scale and unique data transfer within every business.
The MSSQL Server 2012 hosting packages at Jakarta Web Hosting are available with a high-level performance, nearly 100% up time, 24/7 chat support, 30 days money-back guarantee and many more. The products and services are available on the company website at http://www.jakartawebhosting.com/.
About Jakarta Web Hosting:
JakartaWebHosting.com provides Windows and Linux hosting, web design and SEO services tailored to fit every requirement. Jakarta Web Hosting aims to create a cost effective website solution for people and enterprises. The products and services are available on the company website at http://www.jakartawebhosting.com/