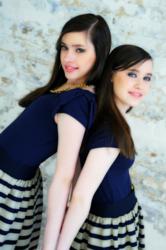 To be able to have two who are almost identical, is a definite bonus
London UK, 23rd April 2012 (PRWEB UK) 23 April 2012
Matching modelling pairs - teenage twinnies capture the hearts of La Mode photographers in a double photo shoot and model advice session.
Helen Smith, director at La Mode, remarked on how easy it was to work with the Atkins sisters, a pair of 14 year old model twins with an uncanny resemblance.
The experts at http://www.lamodelondon.com are no strangers to producing top-notch modelling portfolios. This week saw a duo with replicated beauty posing for the cameras. The Atkins sisters hope to launch their modelling careers with one of La Mode's superb portfolios and websites.
'It's not often you walk into a photographic shoots, and have to look twice but I had to this week,' she laughs. 'I thought I was genuinely seeing things! These girls certainly didn't provide us with any double trouble this week.'
She goes on to explain that it's quite rare for twins to arrive at the modelling advice centre and photographic studios based in London. 'We are quite used to getting stunning looking models, but to be able to have two who are almost identical, is a definite bonus.'
La Mode London see lots of teenage models trying to kick start their careers at the moment and explain that it is a very tough market to get into. Apparently teenage modelling agencies aren't really on the lookout for 'new faces' in the current climate and the company with capital connections, exclusively deal with commercial modelling and advice on self-promotion.
'It's very difficult to market yourself as a professional model with amateur images and no knowledge of the modelling industry', Helen goes on to explain. 'Having a professionally produced modelling portfolio and a corresponding website is definitely the way to go to promote oneself as a model. For the Atkins sisters, they have a definite advantage over individuals.'
She explained that the twins definitely have the characteristics and temperament to go far in the competitive business of modelling.' They certainly have a niche product, something quite rare and if twins are ever needed, they have a double portfolio to be able to show potential clients straightaway.' La Mode feels that their close relationship will hopefully ensure the twins will have longevity and be able to model into their mature modelling years if they wish.
The modelling twins aren't actually identical but their resemblance is uncanny. With different eye colours and different heights, the twins can work together or should be equally successful in finding work individually if they wish, think La Mode.
When interviewed the girls were asked why they became models,
'We love dressing up as all girls do, we want to own our own shop when we are older, a fashion or shoe shop.'
Visit http://www.lamodelondon.com to see the Atkins twin's portfolio and brand-new website just launched.