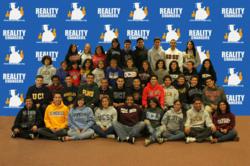 "Reality Changers is a model - not for the city, not for the state, but for the country." U.S. Secretary of Education Arne Duncan
San Diego, CA (PRWEB) April 20, 2012
What do 5 inner-city youth who's culture and heritage are as diverse as the neighborhoods they live-in have in common? They are 5 Reality Changers students who have defied many challenges and are on the road to obtain a PhD at the university of their choice via the Gates Millennium Scholarship. Despite 3% of the residents in their community have college diplomas.
The 5 Reality Changers students who will receive the scholarship and the colleges they will be attending are Diego Ceron, Villanova; Karla Cruz, UC Berkeley; Pedro Mota, Brown University; Bertin Solis, UC Santa Barbara and Alan Vong, UC Santa Barbara.
"On average, only 20 students per state win the Gates Millennium Scholarship, so having 4/5/6 Reality Changers students win this award in 2012 just goes to show what happens when we dedicate resources to inner-city youth in San Diego. By guaranteeing funding up to a PhD, these scholarships can be worth more than $500,000 apiece....I wonder how many more such students we can produce together next year?", states Christopher Yanov, Founder & President of Reality Changers.
After working with gang members for five years, Reality Changers Founder Christopher Yanov felt that it was just not right that most inner-city teenagers today know more people who have been shot or killed in the street than people who are on the road to college.
As a response, Reality Changers began in May 2001 with four 8th grade students at a Hispanic Presbyterian Church near downtown San Diego with the hope of building first generation college students. Starting with just $300 to its name, Reality Changers has given more scholarship awards to college-bound students than any other single organization in San Diego County since 2006.
Reality Changers' mission is to provide inner-city youth from disadvantaged backgrounds with the resources to become first generation college students by supplying academic support, financial assistance, and leadership training.
To learn more about Reality Changers, please visit their website at http://www.realitychangers.org or contact Marshela Salgado, Vice-President of Communications via phone at (619)516-2222.