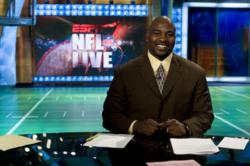 Los Angeles, CA (PRWEB) April 21, 2012
Marcellus Wiley, ESPN Analyst and 10 Year NFL Veteran just launched his official website http://www.MarcellusWiley75.com/. Most known for his 10 years in the NFL, Marcellus has expanded his empire with his off the field achievements and entrepreneurial ventures. His life has not been short of achievements as he made his way from Compton to Santa Monica where he became a star football player along with a star in track and field. He later took his talent to Columbia University where be became a first team All-American and an All-Ivy League pick. One of his proudest moments was being drafted in the second round of the 1997 NFL Draft as the 22nd Pick by the Buffalo Bills. After four seasons with the Bills, he played for the San Diego Chargers, Dallas Cowboys and Jacksonville Jaguars.
You can now find Marcellus Wiley motivating and inspiring entrepreneurs, former pro athletes, business professionals and students around the world with his speaking engagements and corporate appearances. Marcellus's newly designed website is dedicated to his accomplishments as professional athlete as well as his achievements and his success after his athletic career. Fans can also interact with Marcellus thru the site and via Twitter. He currently has over 81,000 followers.
As you navigate through the site you will notice he has taken his career to the next level with his corporate appearances, speaking engagements as well as his weekly radio show live on ESPN LA 710 am from 10:00am – 2:00pm with Max Kellerman. He also provides insight as an analyst on NFL Live on ESPN. His official site also provides you up to the minute live tweets from Marcellus along with his biography, photos, videos and information to book him for a motivational speaking engagement.
Written by: Anthony Fernandez
About AthletePromotions.com
AthletePromotions is a sports marketing firm and athlete booking agency securing thousands of athletes for speaking engagements, corporate appearances, product endorsements, autograph signings, spokesperson campaigns, celebrity golf tournaments, VIP Meet & Greets and more. To book an athlete, call us at 1.888.246.7141
Ryan Totka and his team at AthletePromotions have assisted corporations in booking Marcellus Wiley and sports broadcasters for speaking engagements, corporate appearances and VIP Meet & Greets.