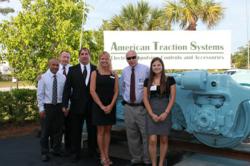 Fort Myers, FL (PRWEB) April 23, 2012
Executives from the Fort Myers Regional Partnership, Lee County's Economic Development Office, participated in the open house and interactive tours of the new design, manufacturing, testing and distribution facility of American Traction Systems on March 30, 2012 to highlight the growing company's successes to date and plans for future expansion.
American Traction Systems was formed in 2008 as an affiliate of Saminco, Inc., operating in Lee County since 1992. ATS designs and manufactures high power AC and DC motor controls and traction drives used mainly in the mining and transportation industry.
ATS designs testing and manufacturing of electric vehicle propulsion systems including hybrid, battery and fuel cell powered cars, trucks, locomotives, marine vessels and military with railroad companies as the majority of its client base.
Standard product manufacturing and custom designed solutions for propulsion requirements are conducted in the manufacturing, testing, research and development, and warehouse location in Fort Myers.
"We applaud ATS in their growth and active participation in our local business community to contribute to the economic health and business diversification of Lee County." stated Jim Moore, executive director of the Fort Myers Regional Partnership, Lee County's Economic Development Office. "ATS and Saminco are an integral part of our business community and we support their commitment and expertise in engineering and manufacturing."
"Lee County offers a supportive, pro-business environment necessary to implement our aggressive vision for economic growth and expansion. We look forward to adding new talent to our existing workforce for ATS in the local area," said CEO Bonne W. Posma, who has more than 40 years of experience with the solid state control of AC and DC motors.
Our track record of successful projects arises from our policy of understanding our customers' requirements and then exceeding their expectations," continued Posma.
American Traction Systems is eligible to receive financial incentives totaling $88,000 to support the expansion of its corporate headquarters and factory in Fort Myers. The incentives would be used to create 44 new jobs with an average wage of $36,000 and an overall economic impact of $3.5 million over the next three years.
The Lee County Job Opportunity Program (LCJOP) provides an incentive for locating or expanding companies to create high wage employment in targeted industries. Qualified companies may be awarded up to $6,000 for each full-time, permanent job created, subject to a maximum award amount of $500,000. The incentives are paid in the form of reimbursements for the Eligible Uses of Funds and as new jobs are created.
For more information on career opportunities, visit http://www.AmericanTraction.com.
About Fort Myers Regional Partnership
The Fort Myers Regional Partnership works to attract new and diversified businesses resulting in high-wage, high-skilled jobs; retains and encourages the expansion of existing businesses and improves the overall business environment. Lee County is a thriving business community with a highly regarded airport, significant corporate development and ample real estate opportunities. The area is attracting, retaining and growing high-value businesses with a unique blend of an outstanding business climate and superior quality of life. The county is home to five vibrant cities--Fort Myers, Bonita Springs, Cape Coral, Fort Myers Beach, and Sanibel--and is the heart of Southwest Florida.
The Partnership continues to promote and build the region through ongoing efforts from its proactive team of domestic and international recruiters, research staff and community liaisons, as well as through its partnerships with the Horizon Foundation, the Horizon Council and the Lee County Industrial Development Authority.
Since 1996, more than 5,000 new jobs and more than $1 billion in economic impact have been committed to as a direct result of key local incentive programs; Lee County Job Opportunity Program and the First Incentives for Recruiting Strategic Targets as well as State of Florida incentives and the State Closing Fund.
In addition to the website, http://www.FortMyersRegionalPartnership.com, Fort Myers Regional Partnership can also be found social networking sites including Linked-In, Facebook, Twitter and YouTube.
Honoring the Past. Celebrating the Present. Exploring the Future.
Lee County is celebrating its 125th anniversary (Quasquicentennial) on May 13, 2012. In honor of its independence from Monroe County in 1887, Lee County will be offering a variety of special events, programs, and promotions throughout the year. Learn more at http://www.LeeGov.com/125th with a monthly events calendar, photo gallery, and historic events timeline.
Editor's Notes:
Unique story angles, resources and trend data are available in the online Media Center at http://www.FortMyersRegionalPartnership.com/AboutUs/MediaCenter. For executive interviews, success stories, and additional media relations services, please contact Jennifer Berg, Fort Myers Regional Partnership, via phone at 239.338.3161 or email at JBerg(at)leegov(dot)com.