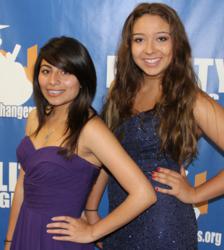 "Reality Changers is a model - not for the city, not for the state, but for the country." U.S. Secretary of Education Arne Duncan
San Diego, CA (PRWEB) April 27, 2012
Students in the Reality Changers program are given a special surprise from a Los Angeles based public relations and marketing firm Pistol & Stamen. "Reality Changers is thankful for the support we received from Pistol & Stamen to ensure a prom night that our Class of 2012 will always remember. Thanks to the hundreds of dresses that have been donated to our students, they are able to purchase prom dresses at a nominal fee. 100% of the fees collected will go to support a women's organization of the student's choice in San Diego County. A win-win for all involved!," states Christopher Yanov, Founder of Reality Changers.
Prisciliana Pineda a senior at San Diego's Health Science High School shares, "I am honored to be able to afford a prom dress. My parents wouldn't be able to afford a dress like this from a designer store. I appreciate that there are people who care enough to help students like me." Jocelyn Carranza from Otay Ranch High School, "I am really excited to be given this opportunity to pick-out a dress from an amazing choice of prom dresses. They are all so beautiful! Prom dresses can be very expensive and senior year alone cost a lot!"
Reality Changers' mission is to provide inner-city youth from disadvantaged backgrounds with the resources to become first generation college students by supplying academic support, financial assistance, and leadership training. America's Finest – Reality Changers' 12th Annual signature year-end event is a celebration for the 100+ students graduating from the 4-year program on Sunday, May 20, 2012, 3pm at the University of San Diego's Jenny Craig Pavilion, 5998 Alcala Park, San Diego, CA 92110.
To learn more about Reality Changers, please visit their website at http://www.realitychangers.org or contact Marshela Salgado, Vice-President of Communications via phone at (619)516-2219. For activity updates, please follow Reality Changers on [http://www.facebook.com/RealityChangers.