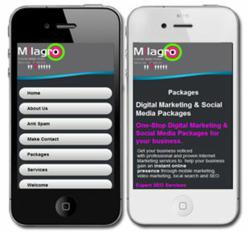 To be competitive, it is important that a business can quickly and efficiently connect and engage with potential and returning customers on the move
Baltimore, Maryland (PRWEB) April 23, 2012
Milagro Mobile Marketing, a small business mobile marketing consultancy, has expanded its range of mobile marketing services and mobile websites designs to offer a new and affordable resource for local Baltimore businesses. "We want local business to feel comfortable about incorporating mobile marketing into their marketing plans," says CEO Maya Mendoza. "Mobile internet usage is surpassing desktop internet usage, and small businesses have an opportunity to prepare for this inevitable change in the way customers are accessing their websites. To be competitive, it is important that a business can quickly and efficiently connect and engage with potential and returning customers on the move."
In anticipation of the increasing need for local small business to mobilize their marketing Milagro Mobile Marketing has developed a small business mobile website design service and small business mobile marketing plan that specifically services the special needs and budgets of a small business. Maya has secured Patrick Tuttle, of the Baltimore area, to work with local businesses to aid them in the correct Mobile Website choice suited for their business. Mr. Tuttle has been collaborating with Ms. Mendoza for over a year and is ready to work with small, medium and large firms in the Baltimore, DC, Philadelphia as well as the Delaware areas.
"Mobile users are a demanding bunch," says Mendoza "They want a great mobile search and shop experience; business that do not care to give customers that experience are likely to lose out to their competitors." Businesses of every size and type that deal with the consumer "MUST" be ready for this new mobile website wave of interaction, says Maya.
Through their custom mobile website design service, MilagroMobileMarketing.com is helping small businesses set up a simple, easy-to-use, professional mobile-friendly website. The Sites are designed to help businesses take advantage of the shift in consumer search behavior and increase the likelihood of new and existing customers finding them and continuing to do business with them cell phone.
Their service is priced on a monthly subscription basis and includes:

One to Ten website pages (with optional add-ons);
business logo and brand colors;
integration with social media profile links;
instant contact and capture forms;
click-to-call buttons;
automatic redirect from full site to your mobile website;
viewer option to switch to the full website view;
monthly traffic reports.
Mendoza stressed, "When we design a mobile website we take care to focus on emphasizing the core elements of a business' full website, and bring to the forefront the information that customers are looking for. We ensure that the information is easy to read on a small screen so customers do not need to scroll across pages, and that navigation is clearly defined and the right size for the fingertips of consumers." Mendoza continued, "We are excited to bring this new service to small businesses here in the Baltimore area. We believe that affordable mobile marketing solutions are critical to any business' success and Patrick Tuttle is ready to help Baltimore small businesses be more accessible to customers and boost their bottom line."
To learn more, Baltimore small businesses are invited to visit MilagroMobileMarketing.com and request a free 30 minute one-on-one mobile marketing and design consultation. Any business interested in this offer will also automatically qualify for Milagro's exclusive 59 point Mobile Marketing Health-check which is designed to help the business owners review how well their business is doing in making use of digital and mobile marketing now, and what they need to do to get a better ROI from it in the future.
MilagroMobileMarketing.com is the sister company to MilagroFusionMarketing.com, a full Digital Marketing Agency. They can be found online, via their mobile optimized sites, and also on the social media outlets of Facebook, Google + Twitter, and YouTube. Any business wishing to take advantage of a free Milagro Mobile Marketing Health-Check (Value $399) and 30 minutes consultation, should contact Maya Mendoza or Patrick Tuttle on 443 807 8383, or visit Milagro Mobile Marketing and complete the on-line 'call back' form before the 30th of April 2012.