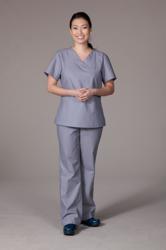 To celebrate the launch of grey scrubs, Medelita is sponsoring a Grey Scrub Giveaway for the period April 23rd through April 27th.
San Clemente, CA (PRWEB) April 24, 2012
Medelita®, an industry leader in performance medical scrubs and lab coats for both men and women, is excited to announce a new grey color option for their medical scrubs. A color consistently requested by both male and female physicians, grey is often considered the color of intellect, knowledge, and wisdom. It is perceived as classic, sleek and refined. And grey is a color that is dignified, conservative, and carries authority - fitting for any clinician working in medicine or dentistry.
Medelita was very calculated in this new color selection, choosing a shade of grey that is flattering on all skin tones. Grey is also the first Medelita scrub color to feature similar contrast trim across genders. Creating a highly complementary pairing, the women's grey scrubs trim is a medium blue tone and the men's trim is navy blue.
Boxy and ill-fitting, the vast majority of scrubs on the market fail to portray the aptitude and professionalism of women and men working in healthcare and dentistry. Unlike most scrub manufacturers that offer a unisex scrub set for both male and female physicians, Medelita offers gender-specific styles in colors that differentiate the wearer from other ancillary staff. Medelita scrubs are also known for thoughtful ergonomic features to ensure comfort and ease of movement.
In addition to unmatched fit and comfort, Medelita medical scrubs are designed to be functional and durable. Medelita scrubs are made with soft, high-performance drirelease® with FreshGuard® fabric that wicks moisture and dries fast. Drirelease® fabric pulls moisture away from the skin and helps to regulate skin temperature, minimizing sweat and discomfort. FreshGuard® is bacteriostatic; it neutralizes and inhibits the growth of bacterial odors - virtually eliminating odor from the fabric, no matter a 10, 12 or 24 hour grueling shift. These technically advanced features are paramount to a modern physician uniform worn by someone displaying prestige and aptitude.
The arrival of Medelita grey scrubs is a highly anticipated event. Often hospitals or medical offices institute a system of uniform color-coding for their employees, in an effort to reduce patient confusion. By further expanding their color selections, Medelita hopes to serve new medical professionals and offices that have been previously unable to wear their high-quality scrubs, due to certain color requirements.
To celebrate the launch of grey scrubs, Medelita is sponsoring a Grey Scrub Giveaway for the period April 23rd through April 27th. In addition to offering a rare 15% discount on all scrubs for a limited time starting Wednesday, April 25th, Medelita will be giving away a free grey scrub set every day on their Facebook fan site. Be sure to check Facebook to take advantage of this exciting opportunity, and to keep abreast of the latest offerings from Medelita.