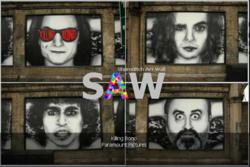 The London 2012 Olympic and Paralympic Games create a unique opportunity for SAW to publish vital social statements on a world stage.
Santa Cruz, CA (PRWEB) April 24, 2012
Today, the London Art Wall Group announced that they are to commission a sixty square meter mural for the Shoreditch Art Wall (SAW) to coincide with the London 2012 Olympic and Paralympic Games focusing on social awareness. The mural will feature Lord Michael Bates' 'Walk for Truce' and Baroness Tanni Grey-Thompson's 'Plight of the Handicapped.' The backdrop will be the iconic opening beach scene from the OSCAR winning film "Chariots of Fire," and will coincide with the British Film Institute's (BFI) re-release of this classic 1981 20th Century Fox movie.
Located in London's fashionable Shoreditch district, this imposing mural will highlight two major social issues: Lord Bates' recent solo walk across Europe and Asia, meeting with international leaders and dignitaries along with way, calling for all warring countries to lay down their weapons during the London 2012 Olympics, as was the practice during the Ancient Olympic games in Greece established in 776 B.C. Baroness Grey-Thompson DBE, a former Paralympian, also has a message to convey concerning the continuing plight of the handicapped in Britain, as was highlighted recently when she was stranded on a London train at midnight because the aid she had called ahead for failed to show up, leaving her unable to disembark in her wheelchair, because there was no mechanism to lower her to the ground.
A spokesperson for SAW commented, "The London 2012 Olympic and Paralympic Games create a unique opportunity for us to make vital social statements on a world stage," Continuing, 'Messaging on urban walls dates back to the Victorian era and has recently come back as a popular and lucrative venue for advertisers because of their high-traffic proximity and key eye-level impact. Outdoor media conveys a powerful message to locals and tourists alike, and as London is expecting over one million visitors during these global media-intense events, this is a wonderful opportunity for Lord Bates and Baroness Grey-Thompson DBE to get 'their' messages across."
View London Art Wall in action video
SAW, a high-profile sixty square meter floodlit wall, just minutes from the Olympic Village, is surrounded by an array of great clubs and pubs and fantastic restaurants, and is regularly featured as a venue for major advertisers, as well as a canvas for new and established artists. Those who have been seen on this space include: Beck's Beer, Walt Disney Company for 'Tron Legacy;' 20th Century Fox for 'The Rise of the Planet of the Apes;' Universal Pictures for 'Killing Bono;' the launch of Namco's new game, Soul Calibur V, in addition to renown Graffiti artists, Roid and Horfe, who have shown their work here.
Although SAW is one large sixty square meter wall, which can be utilized in its entirety, it is composed of four recessed 8 ft. by 10 ft. panels, each of which can be painted individually or have canvases hung in front of them from preinstalled hooks. SAW can be rented by the day, week, or month and is available for rent all year long. The London Art Wall Group has their own team of professional advertising designers and painters.
If you wish to take part in this project as a sponsor, an artist or in any other capacity please contact:
Lisa Foster / Peter Mackeonis
The London Art Wall Group
lisa(at)londonartwall(dot)com
peter(at)londonartwall(dot)com
or call +1 831.840.3729
Websites of interest:
Lord Michael Bates: Walk for Truce
Baroness Grey-Thompson: Plight of the Handicapped