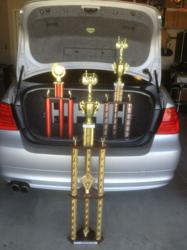 Weston, FL (PRWEB) April 30, 2012
Tint World® has been growing at a rapid rate the past few years, opening several Automotive Styling Centers across the U.S. Continuing its "fast forward" pace. Tint World® decided to build a competition show car and surprise the automotive aftermarket industry at this year's Spring Break Nationals.
Paul Pirro, Tint World®'s Vice President of Operations and Product Management, decided to take a gamble and test what he has learned from retailers and end users across the Country. Pirro explained, "During my years of training thousands I have continually heard shop owners say 'you cannot make money on custom jobs.' With this in mind I decided to build a 2011 BMW 328i in a 3 week time period to prove you can achieve several goals. These goals included a quick installation, using all stock speaker locations, and retaining the vehicles factory warranty and safety." All of these goals contribute to the one main goal: making a store profit.
Tint World® worked with the following companies to achieve their goals:

Focal – Speakers & Subs
Mosconi – Amplifiers and Processor
Gladen Audio – 8" Mid Bass Drivers "OEM Fit"
Stinger –Installation Supplies and Wiring
Hushmat – Damping Materials
NAV-TV – OEM Wiring Harness
Valley BMW – OEM Parts and Pieces
This was an installation that not only utilized the factory speaker location, but used the factory radio and its options. No wiring was compromised and Valley BMW certified that the warranty was still intact. Duane and Nick from Focal work diligently with Pirro in regards to the new Mosconi 6to8 processor. The 6to8 is an extraordinary piece that combines a graphic eq, parametric eq, x-over, and time alignment all controlled via a Bluetooth connected laptop for system tuning and on the fly tweaking! Pirro's vehicle is one of only a handful using this new piece that is in high demand. Derek from NAV-TV made a custom T-Harness (which are now available) for the OEM head unit allowing the factory warranty to be retained.
The end results were 2nd place for Install in the Spring Break Nationals, 1st place in Sound Quality for MECA Street, and a Championship for INAC Installation Quality in addition to several 4th place finishes.
About Tint World®
Established 1982 in Tamarac, Florida, Tint World® is now the leading franchised provider of automotive, residential, commercial, and marine window tinting and security film services in the US. Tint World® Automotive Styling Centers also offer auto security, mobile electronics, performance and styling accessories, custom wheels and tire packages, auto detailing, and reconditioning services.