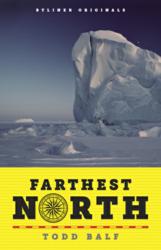 In this brisk and engrossing survival narrative, Todd Balf restores Kane to his rightful place as one of America's most fascinating folk heroes.
— Hampton Sides
San Francisco, CA (PRWEB) April 26, 2012
Todd Balf's new Byliner Original, Farthest North, tells the little-known story of one of the most gripping Arctic expeditions of all time. Despite sickness, mutiny, gnawing hunger, and the malevolent cold, Elisha Kent Kane and his men opened the door to the North Pole and made discoveries that influenced theories about the Ice Age and developed survival strategies that would be the model for generations of future explorers.
By the winter of 1854, Kane and his men had been trapped for almost two years, their ship frozen in a bank of ice somewhere below the North Pole. Some had lost limbs to scurvy and frostbite; some had succumbed to Arctic hysteria; all of them were starving, with Kane taking to eating the rats that seemed impervious to the vise-like cold. All but a handful of the original fifty-odd sled dogs were long dead, victims of rabies and lockjaw. Thousands of miles away, people in America were convinced the crew of the Advance was dead, too.
But Kane, the unlikely captain of the ill-fated ship, remained undaunted. Small of stature, poetic, and sickly, Kane was determined to fulfill his voyage's mission: to find survivors of the celebrated Arctic expedition of Sir John Franklin, and to prove the existence of a legendary Open Polar Sea that circled the North Pole. Under his calm yet unrelenting leadership, the crew of the Advance spent two years searching the frozen unexplored realm beyond Baffin Bay, going farther north than any expedition had before. But when it was finally time to return home, the ice around the ships had frozen solid.
Kane and the fourteen surviving members of his crew eventually made it back and became national heroes, though few people today know about their harrowing, historic journey. Farthest North brings Kane back to life and rightly celebrates him as the man who forever changed the course of Arctic exploration.
Todd Balf is a former senior editor at Outside magazine and the author of The Last River, Major, and The Darkest Jungle, the critically acclaimed account of a disastrous mid-nineteenth-century U.S. Navy expedition that was searching Panama's Darién rainforest for a canal route to connect the Atlantic and Pacific.
Byliner publishes compelling works of original fiction and nonfiction written to be read in a single sitting. Among its bestselling titles are Amy Tan's Rules for Virgins, Jon Krakauer's Three Cups of Deceit, Ann Patchett's The Getaway Car, Rachel Corbett's A Killing in Iowa, Taylor Branch's The Cartel, Margaret Atwood's I'm Starved for You, and Mark Bittman's Cooking Solves Everything. The companion website, Byliner.com, features curated archives of the best fiction and nonfiction writing and allows readers to easily find, share, and buy new and classic stories by their favorite authors.
Farthest North is available for $1.99 as a Kindle Single at Amazon, a Quick Read at Apple's iBookstore, a Nook Snap at Barnesandnoble.com, and at Kobo.
For an Advance Reader Copy or to schedule an interview with Todd Balf, please contact Clare Hertel at clare(at)byliner(dot)com; 505-474-6783.
###