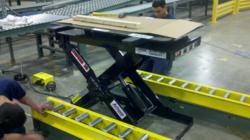 Those shipping lanes had to be up and running Monday morning, and we made sure they were 100% ready.
Greensboro, NC (PRWEB) April 26, 2012
On April 15, 2012, Carolina Material Handling completed a lift table replacement project for the Bic Corporation Distribution Center in Charlotte, North Carolina. They replaced 10 shipping lanes whose equipment was inefficient and worn out from years of heavy use.
The pre-existing shipping lanes in the pallet-processing area of the distribution center were beginning to show signs of wear. Also, the lift tables raised and lowered, but did not pivot, meaning that employees had to reach across a space of about 45 inches to arrange boxes on the pallet. Bic Corp chose industry expert Joe Biscardi, regional sales manager for the Charlotte area, to help them to devise a more efficient, safer solution.
The changes to the 10 shipping lanes were aimed to target two main areas so crucial to a distribution center's success: productivity and safety. Biscardi suggested two innovative ideas to improve the shipping lanes: adding turntable tops to the new lift tables and painting conveyor rails safety yellow.
A Carolina Material Handling approved installation crew installed Autoquip Series 35 lift tables with turntable tops, so those working the assembly line could rotate the pallets 360 degrees, as well as raise and lower them, as they were loading them with boxes. All rails and machinery on the pre-existing equipment had been painted a dull green color; the team painted the rails safety yellow to help workers to see more clearly along the assembly line.
In order for Bic to avoid suffering any downtime, the Carolina Material Handling team was allowed one weekend for installation, April 14-15. "Those shipping lanes had to be up and running Monday morning," Joe Biscardi says, "and we made sure they were 100% ready."
About Carolina Material Handling
Carolina Material Handling, Inc. has evolved from a few hand-trucks and a dream to a complete dealership with over 5,000 material handling products in stock; from one salesperson to a total of ten experienced material handling experts serving GA, NC, SC and VA; and from offering simple material handling solutions to complete engineered systems. Learn more about Carolina Material Handling at http://cmh-inc.com. Their GSA Schedule Contract number is GS-07F-0392X.