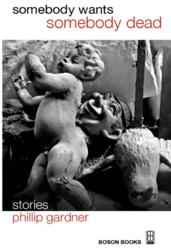 Stories from the paranoid to the poignant
Los Angeles, CA (PRWEB) April 27, 2012
The first offering of new publishing house Bitingduck Press (in collaboration with Boson Books), Phillip Gardner's Somebody Wants Somebody Dead is a collection of darkly humorous short stories that will make you hold your breath, shiver, and sometimes laugh out loud. Featuring a cast of low-lifes, rednecks, and just honest people gone wrong, the book visits and re-visits that last suspenseful moment before the trigger is pulled, the noose tightened, or the curtain lowered. Gardner's stories range from the paranoid to the poignant.
In "The Looking Game," the relationship between a little girl and her grandfather turns life-threatening as the child witnesses a showdown between her grandpa and her father. "Collective Unconscious" shows the twisted subtext of a suburban marriage from the point of view of the couple's ex-con garbage man, a psychopath. In "What I'm Trying to Say Is," a very peculiar murder method is hinted at—one that wouldn't make the folks at the ASPCA too happy. Among the best of these is "Twelve Tips for Writing an Unpublishable Story," a hilariously wicked tale presented under the guise of fiction-writing advice.
George Singleton, author of The Half-Mammals of Dixie, says "Gardner's hit the mark in the tragicomedy venue… These fantastic stories will make you think `My life's bad, but it ain't this bad.'"
The book is available in electronic format April 25 through amazon.com for $9.99. Other electronic formats as well as print will be released in the next few weeks.
ABOUT THE AUTHOR: Phillip Gardner's stories have appeared in national and international journals, including the North American Review, New Delta Review, LIT and Interim. He lives in Darlington, South Carolina and teaches at Francis Marion University. Somebody Wants Somebody Dead is his second collection of stories. For more information about the book, visit http://www.cmonline.com/boson/fiction/somebody/somebody.html or contact Jay Nadeau at 626-507-8033.