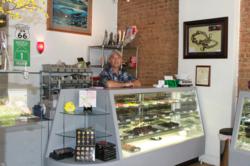 I've been fortunate enough to meet a lot of people who let me into their chocolate shops. I became interested in learning more about it. I took courses and thought it would be a great hobby. Well, one thing led to another . . .
(PRWEB) April 30, 2012
Chocolate is as much a passion as it is a business, say three Ecole Chocolat graduates who were named among the Top Ten Chocolatiers in North America by Dessert Professionals Magazine. All three are currently busy producing their fabulous artisan chocolate creations for special Mother's Day gifting.
Although his heart is in helping U.S. veterans through the Folds of Honor Foundation, Bill Copeland – a veteran himself and an Ecole Chocolat graduate singled out for the Top Ten – says his plans for Mother's Day include special packaging in the shape of hat boxes and purses as well as the addition of spring-time flavors to his shop's already extensive bonbon selection.
His two-year-old chocolate shop, Glacier Confections located in Tulsa, Oklahoma, is the culmination of more than 10 years in the packaging business, which put him in touch with many U.S. chocolate companies. "I've been fortunate enough to meet a lot of people who let me into their chocolate shops. I became interested in learning more about it. I took courses and thought it would be a great hobby. Well, one thing led to another . . . "
Copeland's shop does not have a "collection", as such, but offers dozens of varieties of bonbons – many of them created by customer request – from which to choose. "Mother's Day is a very personal holiday. . .and we'll add special pastel or spring-colored hearts and spring-time flavors such as rainbow sherbet, banana split and tangerine dream to give to Mom," Copeland says.
Ecole Chocolat graduate Jacqueline Jacek, owner of Jacek Chocolate Couture just outside Edmonton, Alta., describes herself as a cocoanista – someone who is both a chocolatier and a fashionista. It's a combination that took her to the top among North American chocolatiers, and it's also a perfect foil for the theme she's chosen for her latest chocolate collection: Vintage 2012.
Inspired by her grandmother's antique teacups, Jacek uses the fashion world's timeline of creating seasonal collections: Her latest is a line of beautifully crafted and colored bonbons that have "modern vintage appeal. . . The flavors are delicate yet distinctive, offering a very memorable chocolate experience, which of course is a great treat for Moms on Mother's Day."
Jacek's products are "high-end, quality chocolate," but what put her in the top 10 North American chocolatiers in 2011 was her unique approach to chocolate, according to Dessert Professional Editor Matthew Stevens. By using fashion techniques and fashion-style promotions, she was making chocolate chic, Stevens says, something that helped her beat out nearly 100 other contenders for the magazine's coveted Top Ten list. "She's coming at chocolate . . . from a direction that I think is incredibly beneficial to the chocolate industry," he says.
Meanwhile, on Isle Au Haut, a remote island off the coast of Maine, Kate Shaffer – a 2007 Ecole Chocolat graduate also on the Top Ten list – has created Black Dinah Chocolatiers. She is described by Stevens as someone who has helped "elevate the chocolate industry" by publishing a cookbook on chocolate (Desserted, Recipes and Tales from an Island Chocolatier published by Down East Books), by highlighting local farms that provide key ingredients for her chocolate and by doing all this from her own home in a very small community (pop. 50).
Shaffer and her husband, Steve, moved from California to Maine, with the idea of immersing themselves in a small community through some sort of food business. Chocolate became the irresistible lure. "The idea of making truffles on a wind-swept island off the coast of Maine was just random enough to appeal to us four years ago when (I) started studying chocolate," says Kate on her Black Dinah website. "Creating Black Dinah Chocolates isn't just about great chocolate, but about supporting local agriculture and using local resources as often as we can. It's about caring for our community and discovering and caring about communities as far away as Venezuela and Peru and Madagascar and Columbia and all the places where cacao is grown and traded. It's about expanding our sense of community to our customers, our patrons and anyone that peeks in just to say hi."
This Mother's Day will be a special one for the Shaffers. Although 75 per cent of their sales are currently through their website, Kate says a new Black Dinah shop will open in Blue Hills, Maine on the mainland on May 13, Mother's Day. It's a 45-minute boat ride and another 45-minute trip by car to the new shop, but it will bring their chocolates to a wider community. "We do get a little bump in sales on Mother's Day and we dress up our packaging, make it more spring-like and will include cards with orders, if requested," she says.
All three Ecole Chocolat graduates say the Top Ten designation has bumped their sales as well. "It's absolutely increased business," says Kate Shaffer while Jacqueline Jacek notes that her shop's profile was raised by "a lot of local media." And for Bill Copeland, the honor "has given us a level of credibility we've not had before. I'm very thankful for that."
Founded in 2003, Ecole Chocolat Professional School of Chocolate Arts offers a portfolio of programs for chocolate making – mastering techniques while gaining the expertise and business knowledge needed to become a professional chocolatier or chocolate maker. Ecole Chocolat's founder Pam Williams is the recipient of the Award of Excellence in Service to the Industry from the Fine Chocolate Industry Association. See our website: http://www.ecolechocolat.com