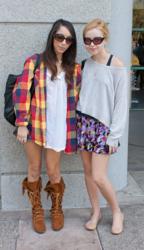 Los Angeles, CA (PRWEB) April 26, 2012
With the temperatures in the mid-80s and the sky blue, students at the downtown Los Angeles campus of FIDM/Fashion Institute of Design & Merchandising are starting to think about summer—seriously.
Call it the Coachella influence or the casual California lifestyle, but many of the big trends for summer 2012 for women look a lot like vintage '60s.
Fashion Design major Ani Akmakjian just bought a loose, flowy long dress with cut-out shoulders in see-through chiffon that she expects to be one of her summer mainstays—matched with chunky Jeffrey Campbell platforms for an update. Nicole Terheggen, a Merchandise Product Development major, also likes long loose skirts topped by crop tops, as seen on celebs like Kate Bosworth and Miley Cyrus at Coachella. She recommends going to the Brandy Melville website, for a glimpse of the whole California look.
Chelsea Thom, a Fashion Design major from Montana agrees that boho will be big this summer, but the other story she likes is bright colors, especially as seen in jeans.
"Now is the time to experiment with color," says Chelsea. She loves the variety of prints and colors available from Joe's Jeans, especially the tangerine and pistachio shades. These friends want their jeans skinny, "but without too much stretch" so they look like quality—a word that keeps popping up when FIDM Students discuss this summer.
What to do with your jeans that are still blue this summer? FIDM students are talking about cutting off vintage Levi's (or mom jeans) in a very short V-shape, higher at the hip and then distressing them by hand. The real do-it-yourselfers are further personalizing by decorating a pocket or two with cone-shaped studs.
Sassy bright colors and prints will also be seen on men this summer—if FIDM trendsetters have it their way. The ALLIDOSYNDICATE, a couture street wear startup founded by FIDM students is predicting that men this summer will "dare to use color." The more conservative may try out the trend on "just a sleeve or a collar," according to Jonathan Carbajal, an Apparel Industry Management major and company owner.
His Apparel Industry major is the perfect match for those who want an overview of the industry and an understanding of how the global apparel supply chain really works. He and his friends, FIDM students Ryo Takiguchi and Christian Pratt (Fashion Design) are already manufacturing their caps and T-shirts in downtown LA.
As the line between men's and women's wear continues to blur, FIDM men plan to wear their shorts leaner and shorter, about 1-inch above the knee for a more tailored look this summer.
Another trend that migrated from the women's department is the exuberant use of accessories. Male students are stacking bead and leather bracelets, piling on chunky comic book rings from the Japanese company Ambush, and talking about wearing long, fine chain necklaces, not the oversized rapper chains of a few years ago, or the short, gold chains of the '70s, but something of finer quality—a word that continues to gather steam for summer.
With four dynamic California campuses, FIDM/Fashion Institute of Design & Merchandising is the premier west coast fashion design college, educating for careers in fashion, graphic design, interior design, and entertainment. FIDM's graduates include renowned fashion designers like Monique Lhuillier, Emmy® and Academy Award® award-winning costume designers, top fashion industry executives, and entrepreneurs.