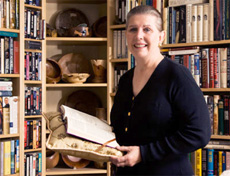 A recent USC / L.A. Times poll of 2,529 readers revealed that 90% of all respondents and 84% of those under the age of 24 still enjoy printed books.
Westlake Village, CA (PRWEB) April 27, 2012
Ebooks currently account for over 10% of New York Times trade book sales and over 20% of all books sold in the U.S. Even when you include rapidly rising numbers for print-on-demand, publishers such as lulu.com, who printed 50,000 new titles, say print sales account for only 68% of their sales. While the numbers may paint a dire picture for the future of printed books, book holder and reading accessories inventor, Myrna Alpern, disagrees with publishers who are forecasting digital sales to increase more than 50% a year and are even predicting the impending end of traditional books sales.
Readers like Alpern see a silver lining in the printed book industry with new studies showing that most ebook readers still prefer the printed versions of their favorite books. These studies demonstrate that some readers can't relinquish the nostalgic qualities of touching and feeling a book. One might easily think such nostalgic feelings are only experienced by older generations who are used to printed books. But a recent poll of 2,529 readers revealed that 90% of all respondents and 84% of those under the age of 24 still enjoyed printed books.
It was also recently found that ebook downloads help boost printed book sales. This is positive news for the printed book industry and manufacturers of reading accessories who may have expanded their product lines to include iPads and Kindles but are still counting on the printed book industry to drive sales. Over the past decade, Amanda Crawford Designs has sold over 50,000 BookBuddy book holders through gift catalogs and http://www.amandacrawforddesigns.com and has helped arthritic Americans to enjoy reading their printed books without aches and pains. Myrna Alpern believes that the printed book industry will be with us for some time to come and that's good news for us all: it's good to know that in today's non-stop world, some things don't change.
1. Caroline Winter, "Germany devoted to Print, Slow to embrace E-Books", San Francisco Chronicles (April 22, 2012)
2. Scott McLemee, "The Rise of the E-Reader" (Dec 31, 2010)
3. Lulu, "Lulu.com finds E-Books and Print sales Drive Each Other" (April 19, 2012)
4. Marie Lu, "Printed Books still Trumps E-Books" (March 31, 2009)