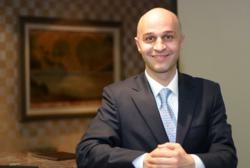 Patients who suffer from mild to extreme dental phobias or have cognitive or physical issues that prevent them from coming to the dental office and sitting through a procedure are excellent candidates for sedation dentistry
San Francisco, CA (PRWEB) April 27, 2012
Dr. Samer Itani of the San Francisco dentist office Itani Dental understands that some patients have special needs that keep them from getting the dental care they need. Dr. Itani explains that today there are many options, including sedation dentistry, that help patients overcome their fear and anxiety and assist with any other issues that prevent them from getting treatment. Dr. Itani describes the four types of sedation dentistry that he offers and who can benefit from them.
"Patients who suffer from mild to extreme dental phobias or have cognitive or physical issues that prevent them from coming to the dental office and sitting through a procedure are excellent candidates for sedation dentistry," says Dr. Itani.
"We work with patients to figure out which one of the four different levels of sedation is the right match for them. It's important for patients to understand their options so they are prepared, and there are no surprises at the appointment."
Dr. Itani offers his patients the following sedation options:
OPTION #1: NITROUS OXIDE
The effects of nitrous oxide, or "laughing gas," are known to be pleasurable and wear off shortly after the exam is over. According to Dr. Itani, this option is best for patients with some fear and anxiety, and for those who have mild gag reflexes.
"Nitrous oxide is the lowest level of sedation that I offer," says Dr. Itani. "It is a colorless gas that has a slightly sweet smell and taste that patients inhale through a special mask. After a couple of minutes of inhaling this harmless gas, patients feel happy and calm and I can begin the treatment."
OPTION #2: ORAL SEDATION
In some cases, Dr. Itani may suggest an oral anxiolytic (anti-anxiety) medication like Valium, which can be administered with or without nitrous oxide. This is the next level of sedation, known as oral sedation.
"Oral sedation is best for patients who have more moderate to severe anxiety and might display panic symptoms," says Dr. Itani. "It offers deeper sedation that makes patients feel relaxed in their bodies and minds during the procedure, and it sometimes leaves them with little to no memory of the treatment after it's over."
OPTION #3: IV SEDATION
Intravenous (IV) sedation, also known as "conscious" sedation, puts patients in a sleep-like state of consciousness, which makes it comfortable to sit still through the appointment. Even in this semi-conscious state, patients are able to respond to questions and directions while they are medicated.
"I may suggest IV sedation in situations where patients have physical, developmental, mental or emotional limitations like Down Syndrome, autism, Alzheimer's, Parkinson's disease, cerebral palsy, or for those with severe gag reflexes or phobias," explains Dr. Itani.
OPTION #4: GENERAL ANESTHESIA
The highest level of sedation that Dr. Itani offers is general anesthesia. An anesthetized patient is in a state of complete unconsciousness, which is why this option is also often called "sleep dentistry." After waking, the patient will have no memory of the treatment and will be safe to go home after about two to four hours.
"General anesthesia may be required for patients with extreme dental phobias, physical limitations, or developmental disabilities, and for those who need treatment that lasts a number of hours," says Dr. Itani. "It must be performed by an anesthesiologist and the dentist must be affiliated with a hospital. I have several affiliations with hospitals across the Bay Area, and I have completed many cases involving general anesthesia over the years."
Dr. Itani has worked with special care and special needs patients for over a decade, and has extensive experience with sedation dentistry. His affiliations with California Pacific Medical Center (CPMC Sutter Health) and Kaiser Permanente in San Francisco and San Rafael allow him to use intravenous or general anesthesia, making Itani Dental San Francisco the best choice for patients seeking sedation dentistry.
For more information about Itani Dental's San Francisco dental services, call (415) 830-9631, visit http://www.itanidental.com, or stop by 450 Sutter Street, Suite 2318 in San Francisco, California. Become a fan of Itani Dental on Facebook at http://www.facebook.com/ItaniDentalSanFrancisco and follow them on Twitter @ItaniDental to stay up to date with the San Francisco dentist's latest offers, promotions, and news.
About Itani Dental
Itani Dental is a leading and experienced San Francisco dental practice specializing in the special needs and phobic niche of dentistry. For over 10 years, Itani Dental has offered cosmetic dentistry, dental implants, invisalign, sedation dentistry, senior care dentistry, home care and house call dentistry and emergency dentist services in the San Francisco Bay Area.
Conveniently located downtown close to San Francisco public transportation, the wheelchair accessible dental office of Dr. Itani is fit for special needs patients and is constantly updated to the latest technology and standards of practice.
Dr. Itani offers sedation dentistry for San Francisco Bay Area patients with dental phobias and cognitive, developmental, or physical disabilities to ensure they receive the most predictable dental care possible. He also has 24-hour emergency, weekend, and evening dentist appointments available in the Bay Area.
The experienced and compassionate members of the Itani Dental staff speak Arabic, Bosnian, Czech, French, Mandarin and Spanish to provide easy and straightforward communication with culturally diverse patients. Itani Dental accepts Aetna, Assurance, Anthem Blue Cross, Blue Shield, Cigna, Concordia, Delta Dental, Guardian, Humana, Metlife, and United Health Care Group dental insurance providers, but will work with patients to get out-of-network coverage.
To learn more about dental services provided by Itani Dental in San Francisco, or to schedule an appointment, call (415) 685-0011.