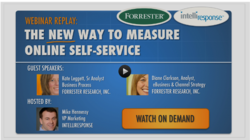 The free online self-service assessment tool uses... Forrester Research best practices, combined with a 'behind the scenes' look at the strength and opportunities in a company's business processes."

- Mike Hennessy, VP Marketing, IntelliResponse
Toronto, Ontario (PRWEB) April 30, 2012
IntelliResponse Systems, providers of the patented IntelliResponse Answer Suite, a multi-channel web self-service software platform that delivers answers to customer and service agent questions, today announced that its most recent best practices webinar, held on March 29, 2012 entitled: The New Way to Measure Online Self-Service set a new company record, attracting over 1000 registrants.
The webinar featured Kate Leggett - Senior Analyst, Business Process at Forrester Research, Inc., Diane Clarkson - Analyst eBusiness & Channel Strategy at Forrester Research, Inc., and Mike Hennessy, Vice President, Marketing at IntelliResponse.
The record attendance at the webinar along with the high volume of questions among attendees is a reflection of the increasing role that online customer self-service is playing in organizations. Online customer self-service (also commonly referred to as web self-service or virtual agent technology) represents a tremendous opportunity for customer-focused organizations to increase sales, reduce customer service costs and enhance customer insight and satisfaction.
Research shows that the majority of customers actually prefer to visit a company or organization's website and serve themselves when they have a customer service question or issue. However, despite evidence pointing to the corporate website as the primary first point of contact between an organization and their customers, many websites do a poor job providing visitors with the information they seek.
"Organizations simply want to know where they stand in terms of providing their customers with the right online customer self-service tools," said Mike Hennessy, Vice President, Marketing at IntelliResponse. "The free online self-service assessment tool we discussed in this webinar does just that, using unbiased criteria based on Forrester Research, Inc. best practices, combined with a 'behind the scenes' look at the strength and opportunities in a company's business processes. So far, the tool has provided an enlightening experience for many organizations, helping to better guide them as they plan on implementing corrective measures on their website."
Those interested in viewing the On Demand webinar can do so via this link: The New Way to Measure Online Self-Service. Organizations wishing to take the free online self-service assessment tool are invited to send an email to eval(at)intelliresponse(dot)com.
About IntelliResponse Systems
IntelliResponse enhances the multi-channel sales and customer service capabilities of hundreds of enterprise businesses and financial institutions. The company's Answer Suite technology is an award-winning On Demand software platform that allows customers and service agents to ask questions in natural language, and get one right answer - regardless of the hundreds of ways the question may be asked.
With more than 500 live customer-facing implementations answering 100 million+ questions, IntelliResponse is the gold standard in first line customer experience management. With the IntelliResponse Answer Suite, your company website, mobile application, social media channels and agent desktop can all be transformed by an engaging virtual concierge, empowering customers to ask questions using normal, conversational language. The correct and complete answer is then instantly served to them in a variety of engaging ways. For more information about IntelliResponse, visit http://www.intelliresponse.com