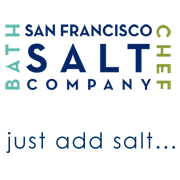 We are thrilled to have a new brand image that finally represents the true quality and variety of our products
Union City, CA (PRWEB) April 30, 2012
In celebration of 10 years in business, the San Francisco Salt Company (SFSC) has launched a rebranding campaign complete with a new logo, website, products, and packaging. It is a culmination of months of careful planning, analysis and feedback from their loyal customers. "We are thrilled to have a new brand image that finally represents the true quality and variety of our products," says SFSC founder Lee Williamson. "The new brand imagery is brighter, and reflects the modern and upscale look we were trying to achieve."
In addition to the new branding, SFSC also has many new products that have been launched on their website. Customers can browse bath salts according to their type, benefit, or "flavor". The company's chef salt offerings have also been given a makeover as a result of the overall improvement efforts. "While the bath salts have been the bread and butter of our business, we also have some truly delectable chef salts that will add just the right amount of natural flavor to dishes," according to Lee Williamson's business partner, Daniel Elmer. "It is an exciting time for us to see all of the hard work we have put in to develop our products come to fruition like this."
To celebrate the event, SFSC is offering free shipping on all internet orders for the entire month of May. In addition, they will be giving away a prize every day from May 1st through May 31st . Customers can be entered into the drawing three different ways – sign up for the SFSC mailing list, "Like" them on Facebook, or follow them on Twitter. This promotional event will conclude with the grand prize of a new iPad 4G tablet on May 31st.
Visit the new SFSC website for details on May's promotional events, and to explore their new product offerings: http://www.sfbsc.com.
About San Francisco Salt Company
We design, develop, and sell an extensive line of bath salts and shower salts to promote relaxation, soothe and care for the skin as well as a line of gourmet chef salts to guarantee just the right flavor for your dishes.
Our mission is to raise your awareness of the amazing benefits of natural sea salts - to harness the power of the ocean to enhance your well-being, from the inside out.
The San Francisco Salt Company hired the expertise of Studio B, from San Rafael, CA ( http://www.studiob-creative.com) to assist with their rebranding efforts and excite customers about the many benefits of using natural salts.
###