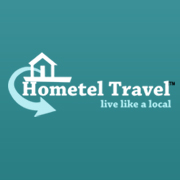 New York, NY (PRWEB) May 15, 2012
Corporations often take advantage of an increase in ease of global communication by splitting their workforce across multiple countries. What employees may have never considered is that these corporate connections can be used to their own advantage – for traveling.
Randy Williams, founder and CEO of Hometel Travel, saw the global corporate infrastructure as an opportunity to set up a travel and vacation rental community in which users search for accommodations through corporate or college networks.
"You have these great corporate networks, and no one ever thinks to use them for travel," says Williams.
On the site, users can post available rooms or empty homes as short-term vacation rentals. Williams believes that these rentals are preferable to hotels because of their much higher comfort to cost ratio, and because they offer a more authentic experience in a foreign country.
"Hometel's motto is 'live like a local,' and we stick by that motto," says Williams. "We really want to show people that hotels are taking away from an authentic travel experience, and that traditional tourism often furthers the disenfranchisement of local businesses and properties."
What is unique for a company like Hometel Travel is that it actively works to empower those who chose to rent out space in their homes – both financially and culturally. Hometel allows property owners to create revenue for themselves, while simultaneously giving people around the world the ability to broaden their cultural horizons.
"In a corporate climate, something like Hometel Travel is an incredibly useful tool," says Williams. "For companies that exist as global entities, it's becoming increasingly necessary that their employees have broader, more cosmopolitan business sensibilities."
With an ambitious and unique platform, Hometel Travel is sure that they will make waves in the industry.
Hometel Travel is a budget conscious peer-to-peer network created for homeowners and travelers to list, discover, and book unique vacation opportunities / vacation experiences worldwide. Hometel Travel allows its users to connect with prospective leasers and hosts via any channel of communication they prefer – including text based messaging and video sharing. Whether you want to find available spaces through an alumni network, shared lifestyle preferences, or even a common interest, Hometel Travel makes navigating a large global database of prospective rentals easy and fun.