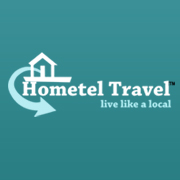 Hometel Travel is looking to innovate further on an already innovative market.
New York, NY (PRWEB) May 23, 2012
Travel sites are beginning to abandon what was once considered a frustrating necessity of vacation travel; booking a hotel. This move may be seen as an entirely positive one though, as alternative short term rental sites like Hometel Travel, founded by entrepreneur Randy Williams, are working towards the creation of an entirely new and not-yet defined culture of travel.
"The hope is that we can change the way people think about vacation and business travel," says Williams, who founded Hometel Travel in 2010 and has orchestrated its relaunch.
Sites like Airbnb and Homeaway have proven the short term peer-to-peer rental market to be a salable one, but Hometel Travel may be ahead of the curve with a greater focus than others on its site's technical aspects.
"In terms of our platform, I'd say we're on the same level as something like Facebook, definitely," says Williams. "We have more features and a much more intuitive interface than any other peer-to-peer online travel market - so we're looking to innovate even further on an already innovative market."
And Hometel's strategy looks to be a successful one, with a greater focus on Asian markets than any of its competitors, and a sleek, simple interface covering an enormous range of technical possibilities (Hometel will be the first peer-to-peer travel site to offer video sharing). Travel may still be dominated by the hotel industry, but the future may belong to Hometel.
Hometel Travel is a budget conscious peer-to-peer network created for homeowners and travelers to list, discover, and book unique vacation opportunities / vacation experiences worldwide. Hometel Travel allows its users to connect with prospective leasers and hosts via any channel of communication they prefer – including text based messaging and video sharing. Whether you want to find available spaces through an alumni network, shared lifestyle preferences, or even a common interest, Hometel Travel makes navigating a large global database of prospective
rentals easy and fun.