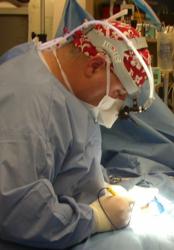 Scottsdale, Arizona (PRWEB) May 01, 2012
Arizona Canine Orthopedics & Sports Medicine and the Animal Specialty Group (ASG) of Scottsdale is the only place in Arizona for pet owners to find board certified specialists in veterinary surgery performing arthroscopic knee surgeries. Arthroscopic surgery is the least invasive procedure available today, resulting in less pain and swelling and earlier return of weight bearing function in the patient, which means better and faster outcome that may even be more cost effective.
Board certified veterinary surgeon, Dr. Ross Lirtzman, and his team at ASG recently performed a very successful arthroscopic knee surgery on a dog from Flagstaff whose owners had been reluctant to have their pet undergo a more traditional surgery. Lirtzman reports, "The dog had a very, very old ACL tear, and because of that the knee was both stiff and thick. They had tried stem cell therapies, braces, all sorts of things to try to help their pet, and literally within days of arthroscopic meniscus surgery, the dog was better – it was remarkable."
A 2005 study published in the Journal of the American Veterinary Medical Association reported that dog owners spend over a $1.1 billion a year on ACL surgeries for their pets, with an additional $132 million spent annually on medical treatments of ACL injuries. Dr. Lirtzman points out that ACL problems are by far the most common acquired orthopedic problem he sees in dogs of all breeds, shapes and sizes.
In most veterinary practices today, dogs with ACL injuries are still being managed much like a person with the same condition would have been managed 25-30 years ago. However, Lirtzman is using the same advanced technology that is used for human surgeries today, resulting in a much less invasive approach. "We are able to do all of that arthroscopically. Through very small incisions, we insert a scope, camera and instruments to look at and to treat structures inside the joint."
ASG's arthroscopic surgery treats both ACL conditions and secondary meniscus tears in the same procedure. "Dogs do not get primary meniscus tears like people do, but 60-70% of all dogs who have an ACL tear will also have a meniscal tear. For dogs that require advanced procedures to stabilize the joint, the arthroscopy minimizes incision size and results in a much less invasive operation." Lirtzman explains.
ASG was established in 2005 by Dr. Lirtzman to provide the most advanced general, trauma, emergency and orthopedic surgery services for dogs and cats. He is one of only 1% of all Phoenix-area veterinarians to be board-certified by the American College of Veterinary Surgeons. For more information the newly developed ASG website helps pet owners find information about their orthopedic specialties http://www.asgscottsdale.com/.