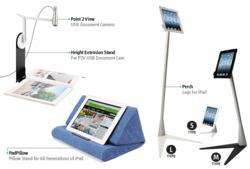 We are excited to report that European customers finally have a chance to experience some of IPEVO's unique and affordable tech products and accessories for educators, businesspeople and consumers.
Sunnyvale, CA (PRWEB UK) 3 May 2012
IPEVO, a designer and maker of technology products for education and business, has announced the launch of its new Amazon UK storefront, which now allows a limited selection of IPEVO products to be sold throughout the European Union.
A total of 18 items from IPEVO's product catalog are available to customers in the United Kingdom and in the other 26 member-states of the European Union. Products available for purchase through Amazon.co.uk include the Point 2 View USB Document Camera, a lightweight and inexpensive camera for real-time video capture in the classroom. The Point 2 View is distinguished by a multi-jointed weighted stand which allows complete customization of viewing angle and distance to subject. Along with the Point 2 View, two related accessories are also available: the custom nylon Carrying Case for the camera and stand; and the Height Extension Stand, a collapsible magnetic mount which allows the Point 2 View to capture large documents up to tabloid-sized.
Other available items include the PadPillow Pillow Stand for all generations of iPad as well as ebook readers. This triangular soft stand is designed for comfortable reading and tablet computing away from the desk, such as while sitting on the couch or lounging in bed. PadPillow comes in Blue Denim, Charcoal Gray, Light Khaki, Honeysuckle, Lemongrass and Tangerine colors. Also available: the Perch family of iPad 2 and iPad 3 stands in white or black, including the Desktop Stand for tabletops, the Sofa Stand for seated users, and the Podium Stand for standing users; and the Wireless Presentation System, which converts wired projectors into wireless ones to facilitate classroom learning and business presentations.
"We have long fielded inquiries from educators, businesspeople, and consumers in many European countries wondering when they could get their hands on IPEVO products," said Royce Hong, CEO and big head of design of IPEVO. "We're excited to report that European customers finally have a chance to experience some of our unique and affordable tech products and accessories. We are especially pleased to fulfill orders for our popular Point 2 View Document Camera, which has been a hit with educators throughout the United States and Asia for everything from math equations to art class."
IPEVO has further announced intentions to broaden their offerings and expand their European product line in the near future.
Orders may now be placed for any of the above-listed products at IPEVO's storefront at http://www.amazon.co.uk/
About IPEVO
IPEVO designs and sells innovative products to enrich today's connected lifestyle. We recognize the immense potential of new technologies to help people create, teach, learn, and inspire. From classroom to living room to conference room, IPEVO is dedicated to making technology more available, accessible, and affordable for all.
For more information, visit http://www.ipevo.com.