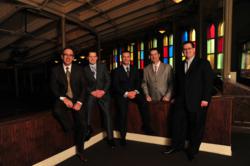 "This song makes me want to go get saved again"
Josh from North Carolina
check this video out!
Nashville, Tennessee (PRWEB) May 03, 2012
After weeks of waiting, fans finally get the chance to see the official music video release of Legacy Five's "Ask Me Why." It is based on the true story of a woman named Patty and her daughter Hana who became believers after accidentally showing up at an event where L5 was performing.
The video is already gaining buzz on YouTube with exponential growth in hits, comments, and shares on Facebook. L5 celebrates the release along with cover stories in both Singing News Magazine and SGN Scoops this month.
Patty Davenport Bahhur is actually featured in the video as a woman going through hardship and finding grace. Scott Fowler, lead singer, tells the story of how Patty stumbled upon the Celebration Event at the Grand Ole Opry with her daughter and looked to the group for answers. When she was given the wrong tickets to an event she thought would be the Opry show, she noticed something strikingly different about the concert. The people looked happy.
"She went on to tell me that her husband is a Muslim and that she was not accustomed to being around so many people who seemed so happy. She again said to me, 'So you see...we're not supposed to be here. We are here by accident. This is not the Grand Ole Opry show and I don't understand why everyone around here is so happy. What is this music all about?'" Said Fowler, recalling Patty's story, "It was then I realized that this was a divine appointment, and God was giving me an incredible opportunity to tell this lady and her daughter why we were all so 'happy.'"
The video takes place at the Franklin Historic Presbyterian Church featuring a congregation comprised of L5 fans who volunteered to be extras. "Ask Me Why" co-writer Kenna Turner West made an appearance at the filming along with Jim Brady of The Booth Brothers and Les Butler of Singing News.
"L5 is great to work with," said producer Scott Godsey of Godsey and Associates "Throughout the filming process, I could tell that they got it. They are the real deal."
Band members Scott Fowler, Scott Howard, Glenn Dustin, Gus Gaches, and Trey Ivey are featured at several locations throughout Franklin and Nashville, TN.
http://youtu.be/uhEkZeCTwCU