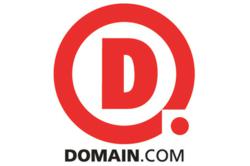 At Domain.com our goal is to support the next generation of successful startups and new businesses.
Vancouver, WA (PRWEB) May 01, 2012
Leading domain registrar and web hosting provider Domain.com for the second year in a row sponsored the $100k Challenge, an annual business plan competition organized by the University of Portland's Center for Entrepreneurship. Domain.com provided free domain names and free web hosting to each team member and gift cards to the winning teams.
Participants included students from both the undergraduate and graduate programs competing to win an investment up to $100,000 composed of half cash and half supported services.
"At Domain.com, our goal is to support the next generation of successful startups and new businesses," said David Andrews, brand marketing director for Domain.com. "We're honored to help the students take the first key step to launching a business, registering a domain name and building a website."
Each team submitted a business plan describing a startup venture to compete in the for-profit track or non-profit track. Students from diverse majors formed 22 teams to compete for the startup funding. The teams presented and answered questions in front of a panel of entrepreneurs, investors, and business professionals. Two Domain.com representatives were also on the judging panel.
For-profit finalists were eligible to win an investment of up to $100,000 made by the Launch Pad Fund investment committee. Finalists in the non-profit track were eligible for a $2,500 grant and professional services award to assist their launch.
The first-place winning team in the for-profit track was Phantom Orthopedics. The Road Therapy won second place, and Cool Body won third place. For the non-profit track, first place went to Share the Stories. Treated Right won second place, and Project Starter received third place. Finalists in the for-profit track included Floa, HerIssue Mobile Publications, and Stress Free Mobile Therapy, LLC.
To learn more about University of Portland's $100k Challenge, visit this link.
About Domain.com
Helping entrepreneurs become successful online since 2000, Domain.com delivers high quality, reliable web hosting and domain name registration services at the most affordable prices in the industry. Domain.com, an ICANN-accredited registrar, offers a full range of solutions to create and market websites includes web hosting, VPS hosting, Email, SSL certificates, website design, and email marketing. For more information visit: http://www.domain.com.