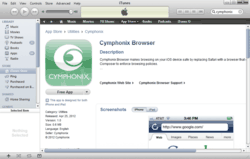 This gives our clients another arrow in the quiver to help manage Internet usage in their organization no matter where or what device.
Salt Lake City, UT (PRWEB) May 10, 2012
Today, the Apple iTunes Store made available for download the Cymphonix Secure Web Browser for iOS devices. The Secure Web Browser gives Cymphonix Mobile Client customers access to a filtered browser option that helps them maintain CIPA compliance. The browser replaces the default Safari browser found on iOS devices, and connects to customers' Network Composer Internet Management appliances to enforce schools' browsing policies.
In addition to providing full HTTP and HTTPS inspection, flexible authentication options, and unified policies, the Cymphonix Secure Web Browser also enforces safe search on the most popular search engines and YouTube. Because it integrates with Cymphonix Network Composer implementations, Network Administrators can ensure the use of mobile devices is CIPA compliant.
"We're excited to see the app available at the Apple Store," stated Aaron Scott, Cymphonix Director of Engineering. "This gives our clients, especially schools, another arrow in the quiver to help manage Internet usage in their organization no matter where or what device."
By communicating directly and in real time with a customer's Cymphonix Network Composer, the Secure Web Browser enforces policy and CIPA compliance whether a user is on or off network. Mobile device policy can be customized based on user, device, location or time of day and browser activity is integrated into existing user and device reports to provide a complete picture of all users' Internet activity.
The Cymphonix Secure Web Browser App for iPhone/iPod and iPad can be downloaded directly from the Apple iTunes Store at http://itunes.apple.com/us/app/cymphonix-browser/id520258323?mt=8.
About Cymphonix
Cymphonix helps organizations get complete clarity into and full control over all their Internet traffic. As demand for content grows exponentially, network administrators' ability to control and filter content, prioritize traffic and applications, and manage bandwidth is taxed to the extreme. Too often, they must resolve incidences and usage issues by cobbling together information from scattered locations and products. The result? Time and cost-intensive forensics and policy-setting that's rarely based on a true understanding of the who, what, when, and where associated with the content and traffic flowing over their Internet connection. Cymphonix's line of network appliances is a single source solution that allows network administrators to quickly, easily and clearly understand down to the minutest detail what's happening on their connection at any given time, and then easily set and enforce policies across their network. Consequently, they spend less time on incidence response, forensics, and policy enforcement while gaining full control over content, applications, traffic, and bandwidth. For more information, please visit http://www.cymphonix.com.