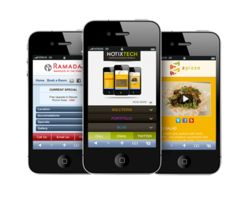 Many mobile marketing sites these days simply deliver the consumer bland and uninspired web copy. Mobile site design is an art at Milagro, says Patrick Tuttle.
Baltimore, MD (PRWEB) May 14, 2012
Milagro Fusion Marketing's new Mobile Marketing Website goes live on May 15th 2012.
The launch of the new website, offers client and customers quick and easy access to essential information about all aspects of mobile marketing including Mobile Website Design tips and how to use SMS Texts and QR Codes to attract more customers and increase customer spend.
"to encourage small business owners to take a look at what a mobile website can do for their business' bottom line we are offering a 30% discount on all our mobile website products throughout May and June 2012" says CEO Maya Mendoza
Mobile technologies such as apps have already been proven to be valuable business tools, and technological development means that now they are viable options for small businesses. Thanks to new products and services tailor-made for smaller businesses, SMB's can have access to resources that would be impossible a year ago.
Patrick Tuttle, Marketing Director, says "many mobile marketing sites these days simply deliver the consumer bland and uninspired web copy that is designed solely to get the customer to buy their product regardless of whether it is fit for their purpose. Milagro believes that when you give a consumer enough information, presented in an understandable and helpful way, that the consumer with make the right choice for them.
MilagroMobileMarketing.com is part of Milagro Fusion Marketing ongoing efforts to simplify and enhance the quality and availability of information to customers worldwide who are searching for up to date mobile marketing services, products and news.
Their mobile website designs boasts of a modern, striking design with clear navigation and easy to read text. It is focused on providing ways for new and existing clients to effectively learn about, keep up to date, use and take advantage of the ongoing changes in mobile marketing technology and software.
"It is time for us to help our client to take their web presence to the next level," said Mendoza, "This site reflects the thinking and efforts of the Milagro team. We trust that it shows our commitment to making mobile tools and technologies, and mobile marketing methods highly accessible to the consumer."
Enhancements to the web site include:

Improved Mobile Navigation – lets visitors find the information they need quickly and easily
Clean User Interface – allows the visitor to get as in-depth as they choose with easy to navigate information.
New Features – tap to call buttons, Free 'Request A Call Back' forms, archived articles and press releases, and a full mobile social networking page with links to all of their online presences, and special offers.
"This is a time of unprecedented growth and adoption of Mobile technologies." Maya Mendoza, Milagro Fusion Marketing Owner and Digital Marketing Director, said. "The biggest growth, without fail, we have seen for every single client, is the growth in mobile traffic, if you don't understand how mobile technologies can strengthen your marketing strategy you are losing out."
She continued "The new website provides an easy to use platform for us to help our growing client base stay informed, so they can use the right technology and get products designed to fulfill each client's objectives".
Many market segments and brands are already benefiting from MilagroMobileMarketing.com's user-friendly and secure mobile marketing environment. Go to http://MilagroMobileMarketing.com for up to date information on comprehensive Mobile Marketing and SMS Texting packages and Mobile Website Design at competitive prices.