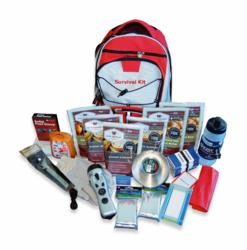 Consumers would be wise to invest in survival kits and other gear that they can use in emergencies.
Orem, UT (PRWEB) May 03, 2012
While celebrating the first anniversary of its website launch, Acorn Supplies, a provider of emergency food storage, has a warning for consumers: get ready for rapidly rising food prices.
Several dangerous factors are combining to create a troubling economic climate:

Tensions rising in the Middle East between Israel and Iran, according to the Reuters article "Israel's Barak: election would not alter Iran plans."
As many as half of the oil refineries on the East Coast of the United States may shut down in 2012, according to the Financial Times article "Energy: Refined out of existence."
The U.S. debt-to-GDP ratio rising above 100 percent for the first time since World War II, according to usgovernmentspending.com.
Several members of the European Union falling back into recession and political turmoil, according to the CNN article "Spain falls into recession."
Gas prices have already risen significantly over the past decade, according to consumerenergyreport.com, and they could hit new highs if war erupts in the Middle East and if oil refineries continue to close in industrialized nations. As the price of gas increases, so does the cost of transporting goods to stores. The end result would be high inflation on everything from food to electronics.
America's large national debt could also lead to problems down the road as the cost of borrowing increases and tax and interest rates also jump. If France, Italy and other vulnerable European nations fall into recession, they could have a serious negative impact on the American economy.
Before these problems lead to higher prices and other economic problems, consumers would be wise to invest in survival kits and other gear that they can use in emergencies. They can also stock up on food storage in case of a lost job or other financial burdens on the horizon.
Acorn Supplies offers a variety of portable and long-lasting resources for people with all types of budgets. Acorn's products include:
First-aid kits
72-hour survival kits
Grab-and-go food kits
Long-term food storage
And much more
Visit http://www.acornsupplies.com to find more information about Acorn Supplies' products and to prepare yourself for disasters, both natural and economic.